Labeling Machine: XP200T-TS
We like to call the XP Tapered Series the "Ballet" of labeling. True tapered container application requires surgically precise incremental steps that control everything from entry to exit without exception. The marriage of banana-shaped labels to specially angled heads, tack and release gates and adjustable body-contouring wrap mechanisms with counter-force spring bars are what allow us to do what we do. Can you hear the sweet music of this dance production? You will… The XP Series Tapered Side Labeler is designed to apply labels to a full range of regular flat-walled containers along with specialty tapered side containers typical in the deli foods, pastas, salsa, hummus, and any many other industries requiring tapered round plastic or glass containers.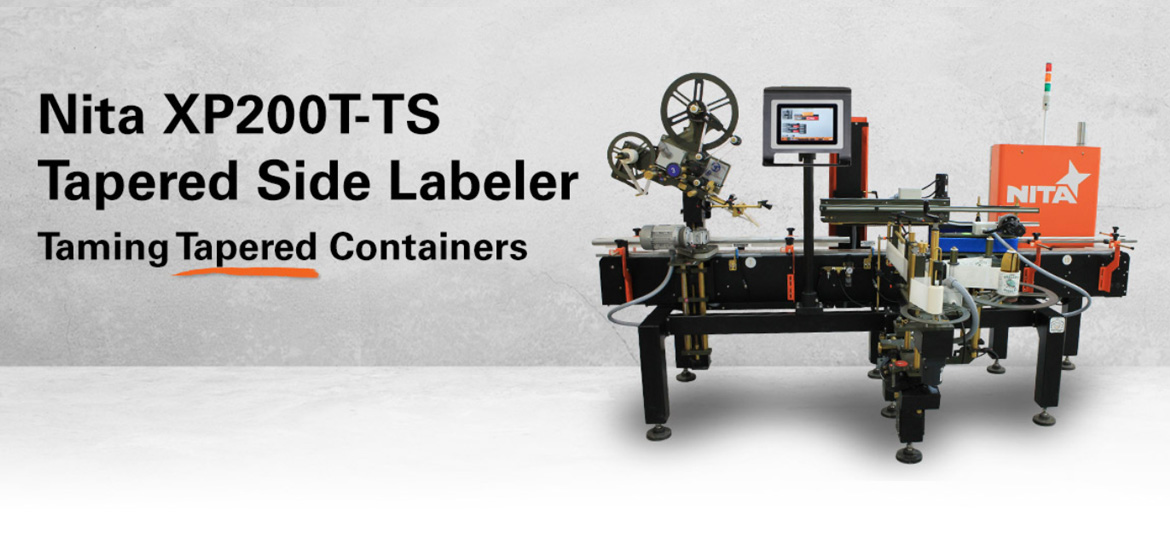 Labeler Type & Specifications
Powerful And Versatile Labeler For Front Or Multi-Panel Labeling
Machine Type: Tapered Side container labeler
Labeling Applications: Tapered side containers, front labeling, multi-panel labeling, full wrap labeling
Container Types: Labels glass, plastic, paper, cardboard, metal and most other materials
Built for speed, precision and extreme simplicity of operation, the XP Tapered Side Series of labeling machine is engineered to perform with maximum productivity and uptime in mind.
The Many Features and Advantages Of Nita Technology and Engineering:
ONLY

 

Servo

 

Motors and Servo Programmable Drives
100% Non-Proprietary

 

Off-The-Shelf

 

Electronics
Totally License-Free Windows IoT Enterprise Software
SCADA platform with Live O.E.E Reporting
10" PC Computer Screen
Front and Back Servo Labeling

 

Precision

 

to 1/32"
Rugged All 304 Stainless Steel and Anodized Aluminum

 

SumoFrame™

Intuitive

 

Ultra-Fast

 

Changeover Total-Replication Software System
Tip-To-Tip Memorized Ruled Adjustment Stations
Blistering 1570" Per Minute Application Speed

Self-Diagnosing

 

Sentient Software
Internet Connectible
In-Screen

 

Parts

 

Ordering
Optional Anti-Corrosion Kits
IP65 Full Machine Wash Down Kits
Cognex

 

Vision

 

Systems for Label Verification and Rejection
Camera and Sensor Servo

 

Orientation

 

Modules
Full How-To Video Help Library
Variable Information Printing and Coding Options
Auto Label Calibration with Fixed Product Sensors
12" Standard OD Rolls. 16" and 18" Options
6" Standard Label Width. 9" and 12" Options
And don't forget about our On-Demand NitaCare In-Screen Live Tech Help or The Complimentary Sister Mobile NitaCare Free Live Video Tech Support App. Forever Free. On Every Nita!