Case Labeler Machines
When it comes to managing and shipping cases, clear and accurate labels are essential to an effective supply chain management strategy. Accurate inventory and tracking help power the entire production process. Fortunately, case label printing and applicator machines can help provide reliable tools to support a more efficient and cost-effective business.
Sheapak's Front and Back XP200T Labeling Machine
Powerful And Versatile Label Machine For Front Or Multi-Panel Labeling
Machine Type: Front and back label machine
Label Applications: Front and back labeling, multi-panel labeling, full wrap labeling
Container Types: Label machine applies labels to plastic, glass, bottles, paper, cardboard, metal, round bottles, vials, and most other materials
Built for speed, precision and extreme simplicity of operation, the XP200T labeling machine is engineered to perform with maximum productivity and uptime in mind.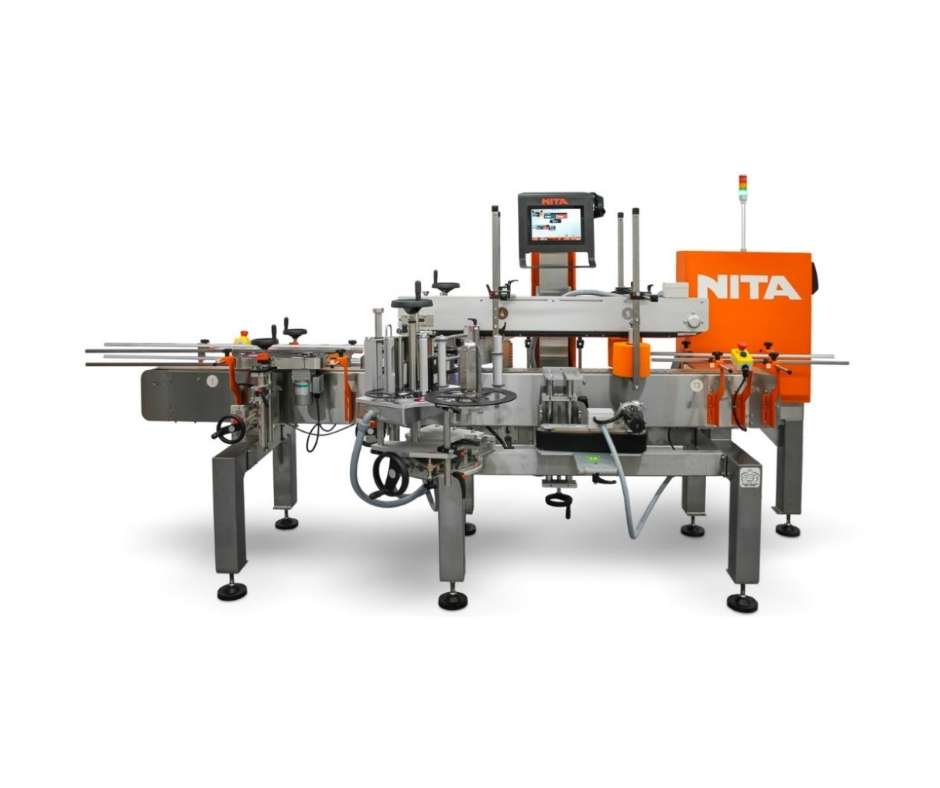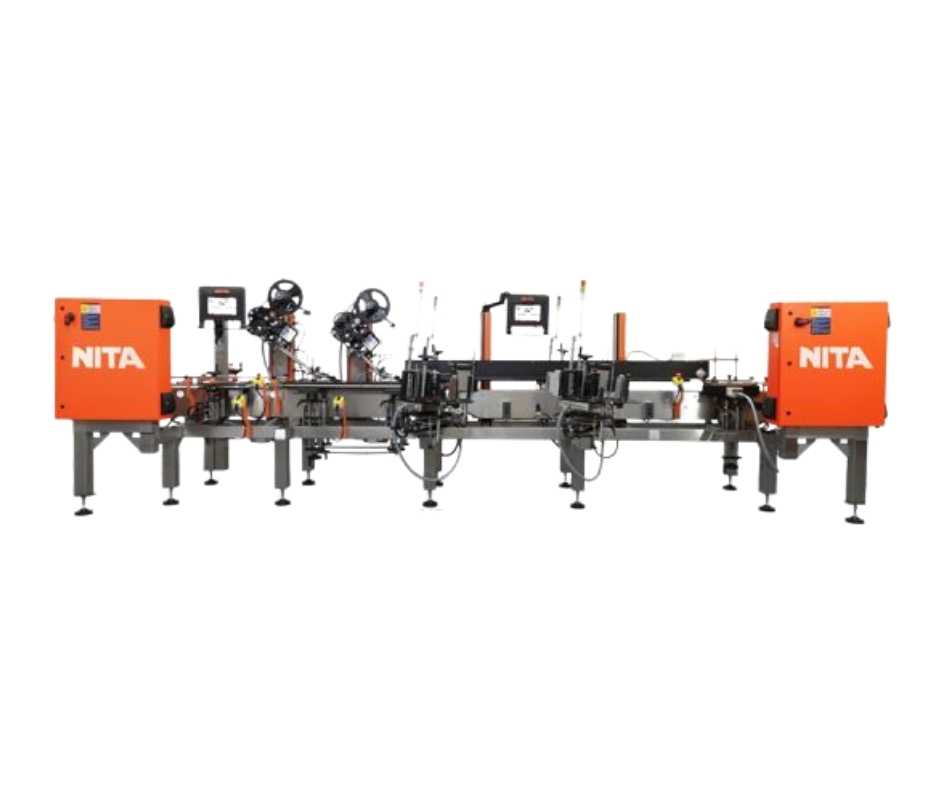 Sheapak's Non-Stop Labeling System
Redundant Retractable Labeling Heads.
Automatic Depleted Label Roll Switchovers.
Call us NOW to learn more about this and all of the other game-changing features you will only find on a Nita Sentient Labeling System.

1-855-668-NITA (6482) or email if you prefer at sales@nita.ca.
Sheapak's XP100T Labeling Machine
Powerful And Versatile Labeler For Front Or Multi-Panel Labeling Of Buckets, Pails, Jugs And Tubs
Machine Type: Pail labeling machine, pail labeler, bucket labeler
Labeling Applications: Front labeling, multi-panel labeling, full wrap labeling
Container Types: Labels round or square plastic buckets, jugs, pails, tubs, metal and most other materials
Built for speed, precision and extreme simplicity of operation, the XP Pail Series of labeling machine is engineered to perform with maximum productivity and uptime in mind.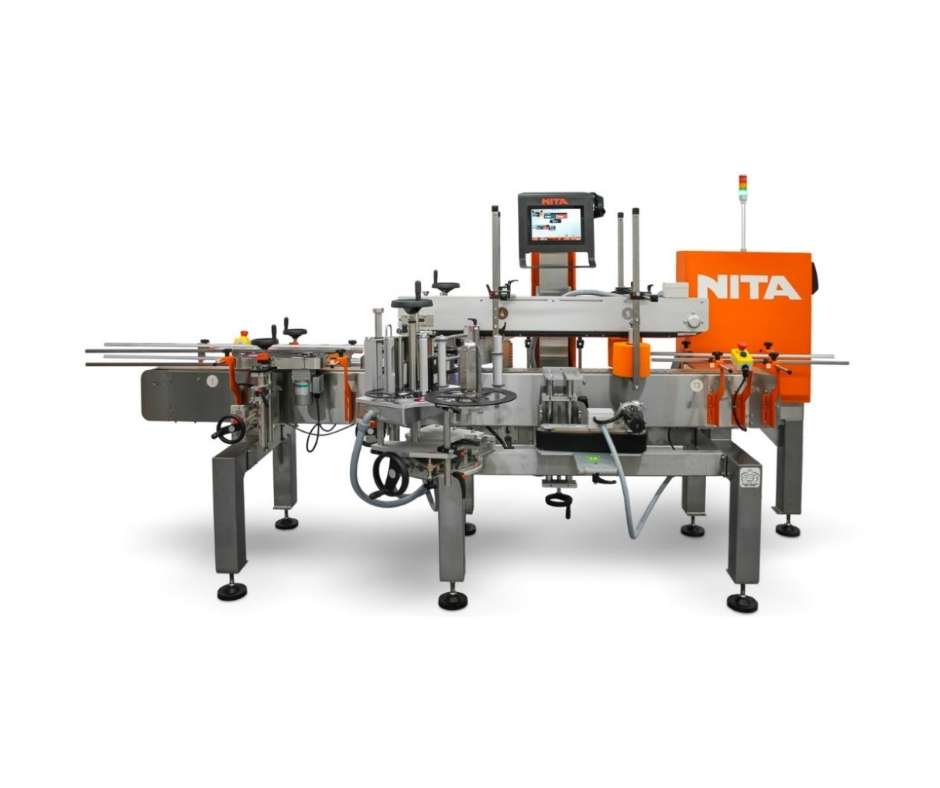 Cases can provide a unique packing challenge. In many cases, the label information needs to be printed right onto the corrugated cardboard box. The actual boxes can be covered in a variety of different waxes and seals to help them fight moisture. This means that printers need to be able to consistently deliver legible labels that will adhere to the material and withstand the shipping process.
Today's advanced printers are designed to master a variety of materials and work environments. They are flexible and dynamic so that everything adapts to your needs and you can move at the pace of business. The technology isn't designed to simply meet your current needs, but to look towards the future and help position your company for growth. 
For some companies, a case label applicator is their main priority and a barcode/label printer may not be the right solution. As with other models of combination printer/applicators, there are also solutions that focus on the application process. These machines are designed to meet the evolving needs of businesses, which means that you can add capabilities and continue to enjoy an excellent ROI.
Print and Apply Case Labeler
For a complete inventory and shipping solution, you can opt for a machine that handles both the print and application tasks of case labeling. With most combination equipment, the printer is able to produce a clear and customized label that is then sent through a tamp and blow system. Essentially, a blast of air blows the label into place and a light tamp is enough to activate the pressure-sensitive adhesive. 
If you aren't familiar with these solutions, the pressure-sensitive adhesive is a modern take on previous techniques, which required heat or water for the label to create a tight bond. In some cases, these adhesives are still in use, but for the majority of businesses, pressure-sensitive labels provide a more streamlined approach. 
Another benefit of this approach is that the applicators are guaranteed to place labels within a minute degree of error. You can feel confident that your products will be properly labeled and provide a favorable representation of the brand before they leave for distribution.
In-Line Label Applicators
If you are interested in maximizing efficiency as you apply labels, then an in-line label applicator may be the right solution. These applicators accurately place crisp labels at a high rate of speed. That means that you increase the rate of production without sacrificing any other priorities. 
In addition, once you compare the ROI on manual labeling versus in-line solutions, you will be amazed to see that you can both increase production and cut costs. That is the power of intelligent and intuitive technology.  
Automatic Case Labeling Machine
One of the other benefits of case labeling is that you can choose from among a wide range of automation. There is no one-size-fits-all solution. Instead of adapting your business to the technology, the equipment will meet your needs.
If you are a smaller operation looking to ramp things up, a smaller semi-automatic case labeler may be enough to meet your current needs and position you for growth. At the same time, if you are a large business, and anything in between, you can choose the level of automation that is right for your budget and your production goals.
Perhaps best of all, case labeling machines utilize modular designs, so that even if you start with a semi-automatic applicator, you can easily upgrade to a fully automated model. Instead of starting from scratch, you can build on what you have as your needs change.