Guide to Wine Labeling Machines
When it comes to producing wine, there are many steps along the production process. Printing wine labels and accurately applying them to labels is an important part of that process and one area where there may be room for improvement. Even small wineries can benefit from investing in some semi-automatic labeling equipment that will help to get the product to market as efficiently as possible. Learn more about your options and how product labeling equipment can help.
Sheapak's Front and Back XP200T Labeling Machine
Powerful And Versatile Label Machine For Front Or Multi-Panel Labeling
Machine Type: Front and back label machine
Label Applications: Front and back labeling, multi-panel labeling, full wrap labeling
Container Types: Label machine applies labels to plastic, glass, bottles, paper, cardboard, metal, round bottles, vials, and most other materials
Built for speed, precision and extreme simplicity of operation, the XP200T labeling machine is engineered to perform with maximum productivity and uptime in mind.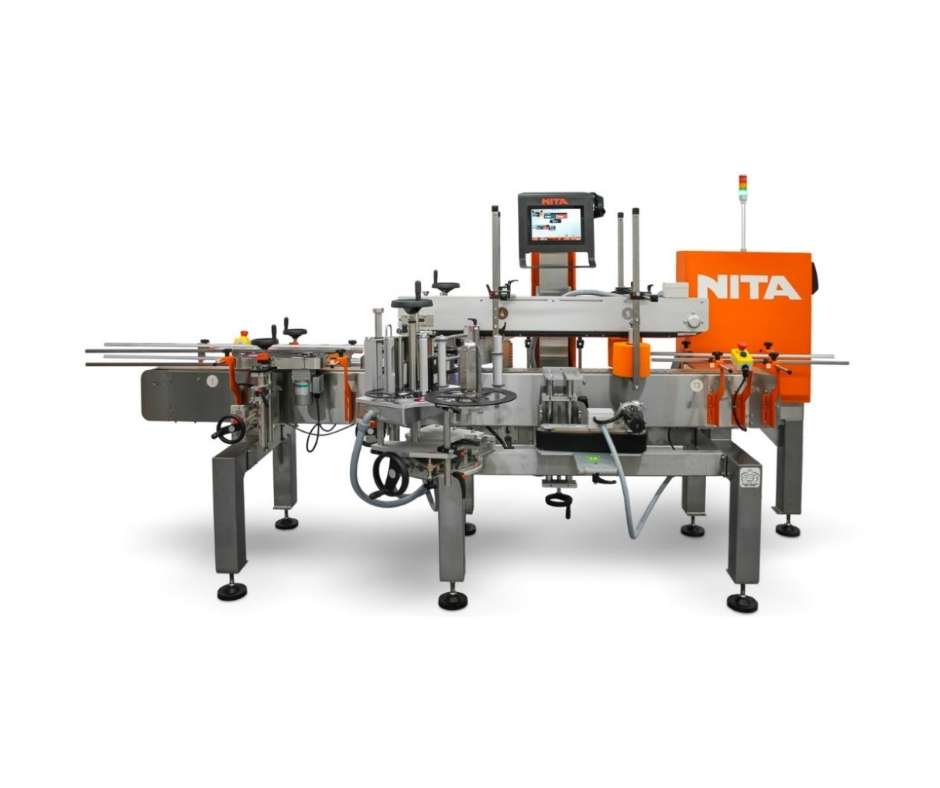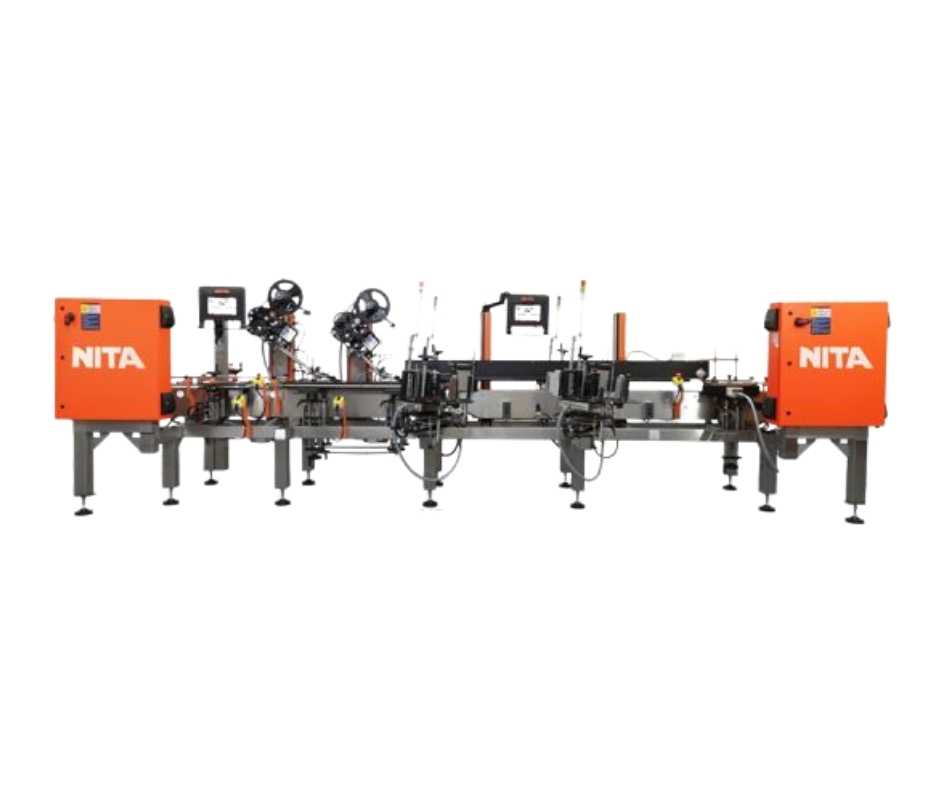 Sheapak's Non-Stop Labeling System
Redundant Retractable Labeling Heads.
Automatic Depleted Label Roll Switchovers.
Call us NOW to learn more about this and all of the other game-changing features you will only find on a Nita Sentient Labeling System.

1-855-668-NITA (6482) or email if you prefer at sales@nita.ca.
How many times have you heard someone say that they chose a bottle of wine based on the label? According to one survey, around 80% of respondents have chosen a wine based on the label alone. That is how important labels are for branding and promotion purposes. A well-designed and attractive label can be enough to win over a new customer and turn them into a brand ambassador who helps spread the word about your products.  
Branding and packaging are especially important as more wineries enter the market and customers have an increasing number of options to choose from. Hopefully, the right wine label can convince customers to try your product, and the quality and flavor of your wine will keep them coming back for more.
Once you have perfected your wine label design and chosen the perfect bottle and color shape, you need to start thinking about the logistics of actually applying the label to the bottle. Compared to growing grapes and making wine, this may seem like a small part of the process, but it is very important.
Wine Bottle Labeling Machines
Depending on your production levels, you may want to invest in an automatic or semi-automatic labeling machine. This type of equipment can help you manage your product goals without compromising quality. Each bottle that leaves your winery will have a precisely placed label that represents your brand in a positive and professional manner.  
Small-batch wineries may want to start with a semi-automatic label applicator. Typically, these include a conveyor belt that gently moves the bottles along the line. An employee will push a button once the bottle is in place to apply the label. This approach is much faster and more efficient than labeling each bottle by hand.
Fully automatic wrap-around labeling machines are perfect for ramping up production and handling larger batches. The entire labeling process can be programmed, monitored, and executed with precise and food-safe machines. Even smaller wineries who would like to eventually increase production may be better off starting with an automotive machine. This allows the business to grow without having to update or replace machinery along the way. 
There are two main types of automatic wine labeling machines: rotary and in-line. While both options offer benefits that far exceed manual wine labeling, a rotary label is considered the fastest and most accurate. In general, this type of machine can label around 500 bottles per hour. With an in-line model, you can expect to label 150 bottles an hour. That is still a 500% increase in efficiency over manual labeling. As you can see, investing in product labeling equipment can provide a serious ROI. 
Wine Label Printing Companies
When you think about working with a wine label printing company or labeling machine distributor, look for a company that will be able to provide you with ongoing support. Your equipment will continue to play an important role in your business and that means that you want to be able to call on excellent customer support and experienced technicians when needed. 
The right company will be able to provide ongoing maintenance and quickly send a representative to your location to help with repairs. Any amount of downtime can be costly and disrupt the entire production line, so a fast response is key. Look for a company that values high-quality equipment and has a reputation for customer service. This will ensure that you are able to get the most out of your equipment and keep it performing at an optimal level for as long as possible.
Traditionally, wine has been packaged and sold in bottles. However, aluminum cans have become an increasingly popular option because they are lighter and less expensive. In addition, most wine drinkers cannot tell a difference in taste between a wine that came in a bottle versus a can. From a labeling perspective, cans and bottles are just as easy to handle during the production process.
Even if you have chosen a bottle with a distinct shape, you can equip your winery with a label applicator that can meet your custom specifications. While not every piece of labeling equipment will be right for the job, there will be options that can be adapted to your needs. You can even choose among shrink sleeve labels, wrap-around labels, and front and back labels. Your machinery will support your goals with effective printing techniques rather than limit what you can do.
Finding the right printing and bottle label applicator is all about outlining your goals, understanding your production needs, and finding a machine that fits your space. There is a wine labeling solution out there for your brand.