Banding Labeling Machine: Joust SSK-360
The versatile Nita SSK 360 Banding* is the industry's most technologically advanced label application system designed. The banding labeler is designed to efficiently apply a single full 360 degree wrap label to a large variety of container types like boxes, clamshells and meat trays. Nita's truly synchronized servo-motor controlled rear application swing arm also ensures precision full banding application at any labeling speed.
* A product UNIQUE to Nita's advanced labeling technology!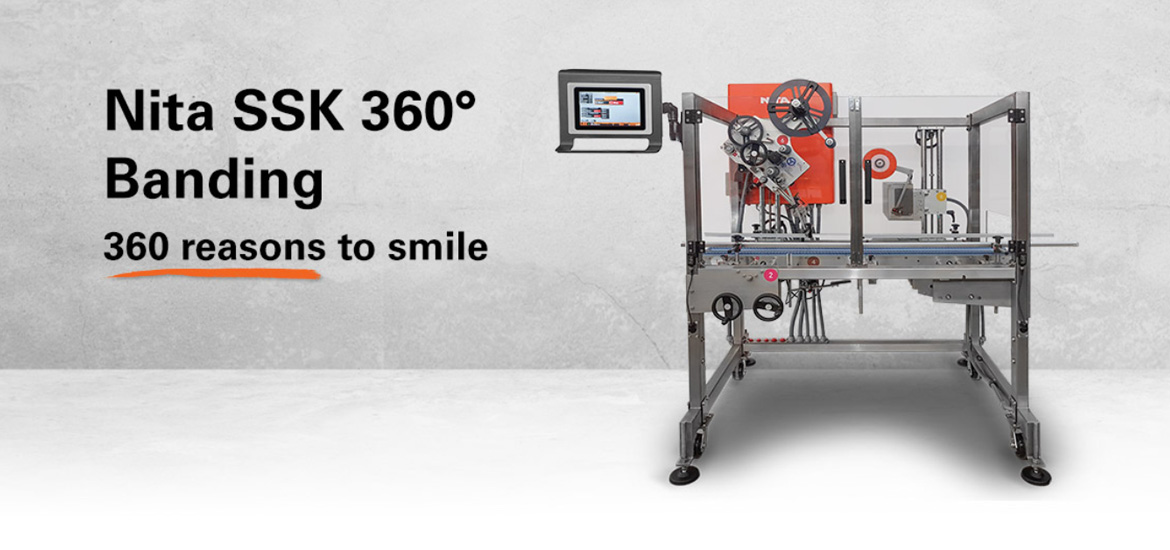 Labeler Type & Specifications
Powerful And Versatile Wrap Labeler For Clamshells, Meat Trays, Boxes, And Other Shapes
Machine Type: Full wrap banding labeler
Labeling Applications: Applies a single full 360 degree wrap label
Container Types: Labels plastic, glass, paper, cardboard, metal and most other materials
The Joust SSK-360 Banding is designed to be powerful, efficient, and versatile.
The Many Features and Advantages Of Nita Technology and Engineering:
ONLY

 

Servo

 

Motors and Servo Programmable Drives
100% Non-Proprietary

 

Off-The-Shelf

 

Electronics
Totally License-Free Windows IoT Enterprise Software
SCADA platform with Live O.E.E Reporting
10" PC Computer Screen
Front and Back Servo Labeling

 

Precision

 

to 1/32"
Rugged All 304 Stainless Steel and Anodized Aluminum

 

SumoFrame™

Intuitive

 

Ultra-Fast

 

Changeover Total-Replication Software System
Tip-To-Tip Memorized Ruled Adjustment Stations
Blistering 1570" Per Minute Application Speed

Self-Diagnosing

 

Sentient Software
Internet Connectible
In-Screen

 

Parts

 

Ordering
Optional Anti-Corrosion Kits
IP65 Full Machine Wash Down Kits
Cognex

 

Vision

 

Systems for Label Verification and Rejection
Camera and Sensor Servo

 

Orientation

 

Modules
Full How-To Video Help Library
Variable Information Printing and Coding Options
Auto Label Calibration with Fixed Product Sensors
12" Standard OD Rolls. 16" and 18" Options
6" Standard Label Width. 9" and 12" Options
And don't forget about our On-Demand NitaCare In-Screen Live Tech Help or The Complimentary Sister Mobile NitaCare Free Live Video Tech Support App. Forever Free. On Every Nita!