Pharmaceutical Labeling Machines
The pharmaceutical industry faces unique challenges when it comes to labeling products. Not only do pharmaceutical packages come in a range of shapes and sizes, but there are also stringent requirements that regulate every aspect of pharma labels. With so much to consider, label applicators are a welcomed tool that allows pharmaceutical companies to keep up with production demands and accurately label products.
Sheapak's XP100T Labeling Machine
Machine Type: Versatile Label Applicator Machine
Labeling Applications: Front labeling, multi-panel labeling, full wrap labeling of round bottles, cans, pails, boxes, and more
Container Types: applies labels to plastic, glass, paper, cardboard, metal and most other materials
Built for speed, precision and extreme simplicity of operation, the XP100T labeling machine is engineered to perform with maximum productivity as well as maximum uptime.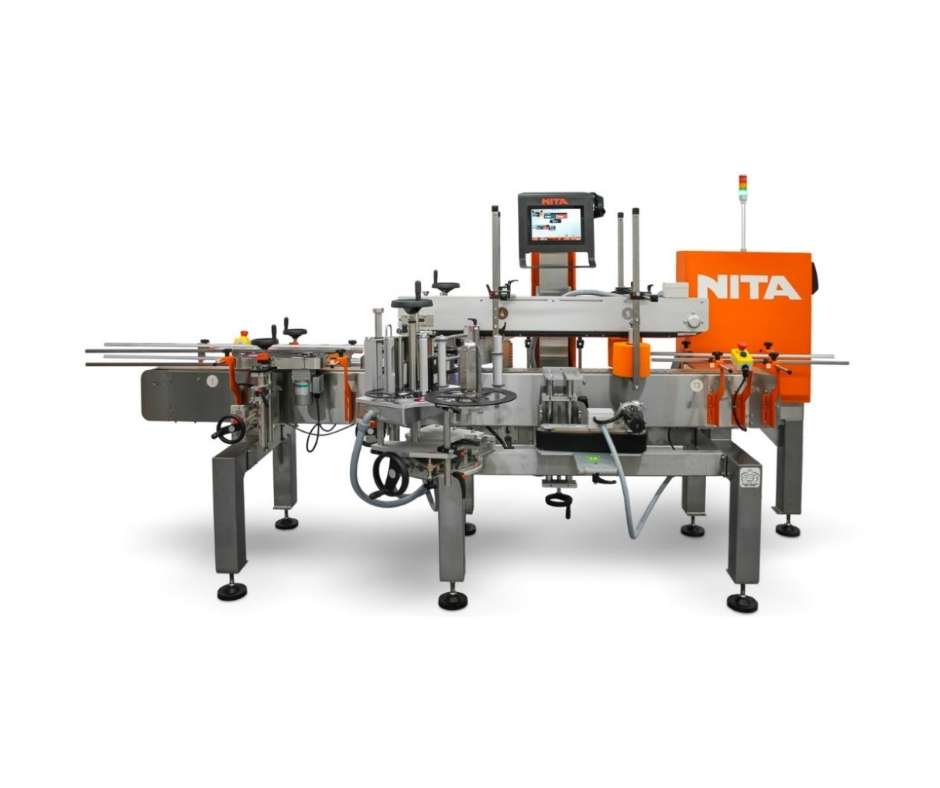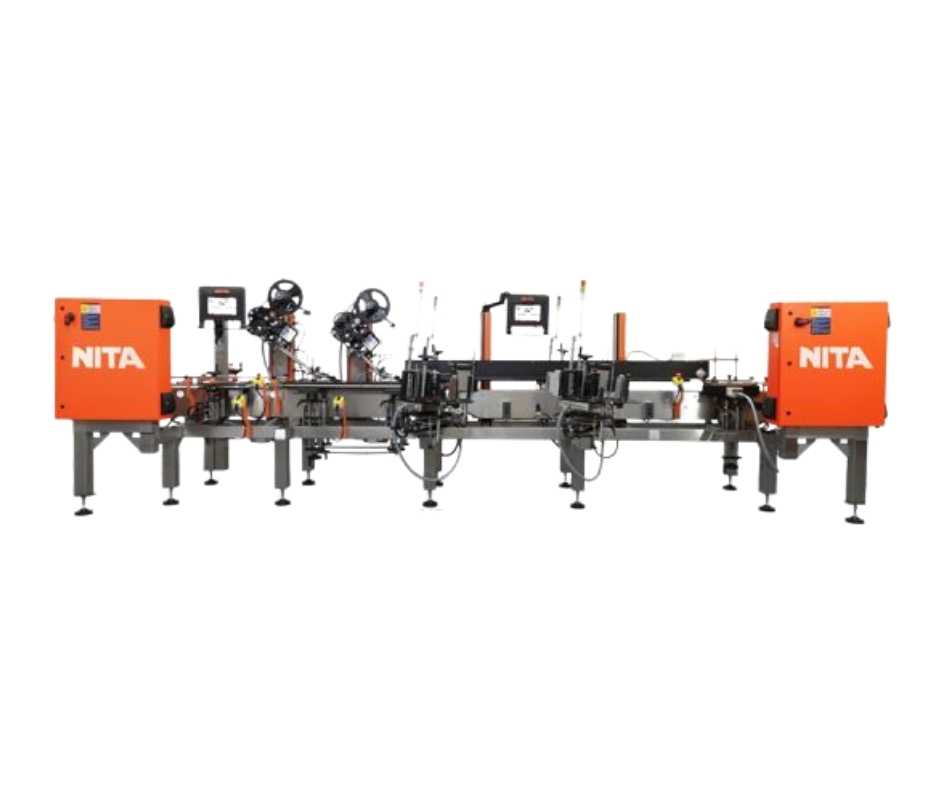 Sheapak's Non-Stop Labeling System
Redundant Retractable Labeling Heads.
Automatic Depleted Label Roll Switchovers.
Call us NOW to learn more about this and all of the other game-changing features you will only find on a Nita Sentient Labeling System.

1-855-668-NITA (6482) or email if you prefer at sales@nita.ca.
Sheapak's XP100T WRAP Labeling Machine
Machine Type: Wrap labeler
Labeling Applications: Full wrap, partial wrap, orientation applications on cans, bottles, and other round container products
Container Types: Wraps round glass, plastic, metal and paper containers
Built for speed, precision and extreme simplicity of operation, the XP100 Wrap labeling machine is engineered to perform with maximum productivity and uptime in mind.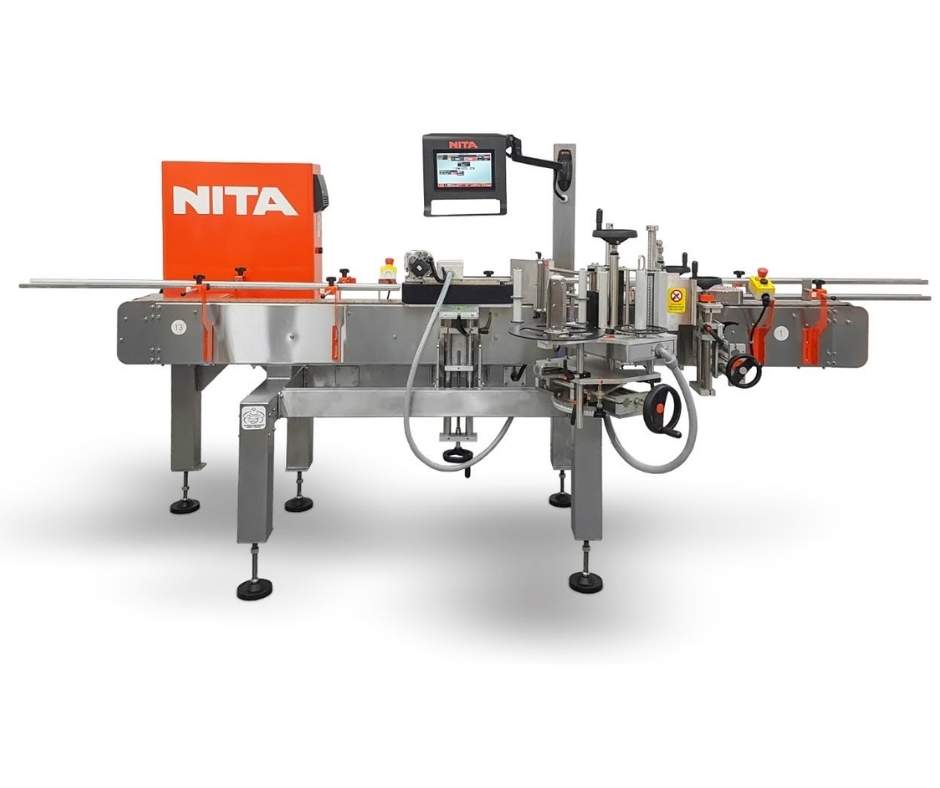 When it comes to pharmaceutical products, providing tamper evident labels are essential. While these labels won't prevent tampering, they will provide a clear indication that a product has already been opened. This is a vital safety measure that can help prevent exposure to potentially dangerous pharmaceuticals that have been altered. 
A simple tamper evident label will have a perforation. Once this seal has been broken and the product has been opened, it will be clear to the user. Fortunately, pharmaceutical labeling machines can easily create this safety measure while also printing and applying an attractive and informative label that meets all industry standards.
Pharma Packaging and Labeling
Certain pharmaceutical products are sensitive to temperature and other factors. They need to be handled carefully in order to ensure the safety and quality of the product. Today's pharma packaging and labeling technology allow manufacturers to accurately and efficiently manage products. Sophisticated solutions can be equipped with a variety of sensors and cameras that monitor the production process and ensure that all packaging and labeling standards are met. If a product is identified as defective, it will be removed from the line and a final crosscheck can verify that the product is no longer in circulation.
Vials can present a particularly difficult labeling challenge. Accurately applying labels to a rounded surface takes precision. A wraparound label needs to be expertly applied. This can be achieved by using a label applicator that continuously rotates free-standing vials as they are labeled. This allows printers to produce and apply labels that surround the entire bottle. Additional control systems can also be used to ensure that all the necessary codes and information is clear and present on the label.
Pharmaceutical Label Printing Machine
The majority of pharmaceutical label printing machines feature a modular design. This allows companies to add to the functionality of the machine as needed. Smaller operations can quickly scale up and increase production. In addition, producers can add new products to their offerings without having to revamp the labeling process. The machine can simply be updated and programmed to handle new tasks. This adds to the overall value of labeling machines and makes them worth the initial investment.
Pharmaceutical Labeling Companies
As with any business, pharmaceutical companies are looking for ways to work more efficiently. Labeling machines allow for automation that makes for better project management and improved processes. Automation also eliminates the potential for human error and consistently delivers products according to specifications.
Since pharmaceutical products cover a wide range, labeling machines are designed to be as adaptable and flexible as possible. In fact, they can be totally customized to address your needs. That is why it is important to be clear about your production requirements. Consider where the machine will be housed, the size and shape of the packages you need to label, the need for variable data on each package, and your overall production scope. 
As mentioned before, it is also important to plan for growth and change. The solution that works for you today might not be ideal in the future. With modular options, it is easy to position your business for success and make sure that you are investing in long-term labeling solutions. 
Finally, make sure that you are partnering with an experienced labeling machine company that can help match you with the latest technology. The right company will also be able to provide you with an accurate quote and provide ongoing maintenance, which can help prolong the life of your labeling equipment. In addition, you want someone who will be able to quickly service your machine on site if there's a problem. Fast response times are essential to preventing downtime and making sure that vital pharmaceuticals are able to reach those who need them.