Box Labeling Machines
With any product, companies should always be looking for ways to improve efficiency and reduce costs. A proactive approach to managing production details is fundamental to maintaining a competitive edge. Fortunately, technology is always advancing and providing new business solutions. For example, today's box labeling machines are more accurate, reliable, and faster than ever before, which is helping businesses keep pace with demand and scale production as needed.
Sheapak's Front and Back XP200T Labeling Machine
Powerful And Versatile Label Machine For Front Or Multi-Panel Labeling
Machine Type: Front and back label machine
Label Applications: Front and back labeling, multi-panel labeling, full wrap labeling
Container Types: Label machine applies labels to plastic, glass, bottles, paper, cardboard, metal, round bottles, vials, and most other materials
Built for speed, precision and extreme simplicity of operation, the XP200T labeling machine is engineered to perform with maximum productivity and uptime in mind.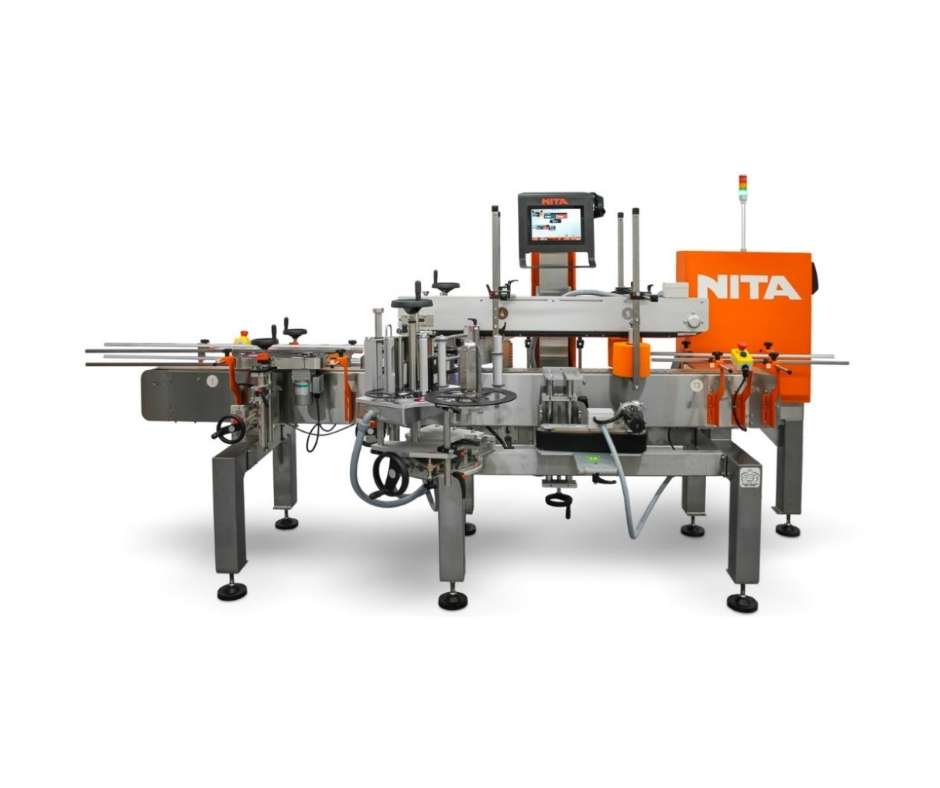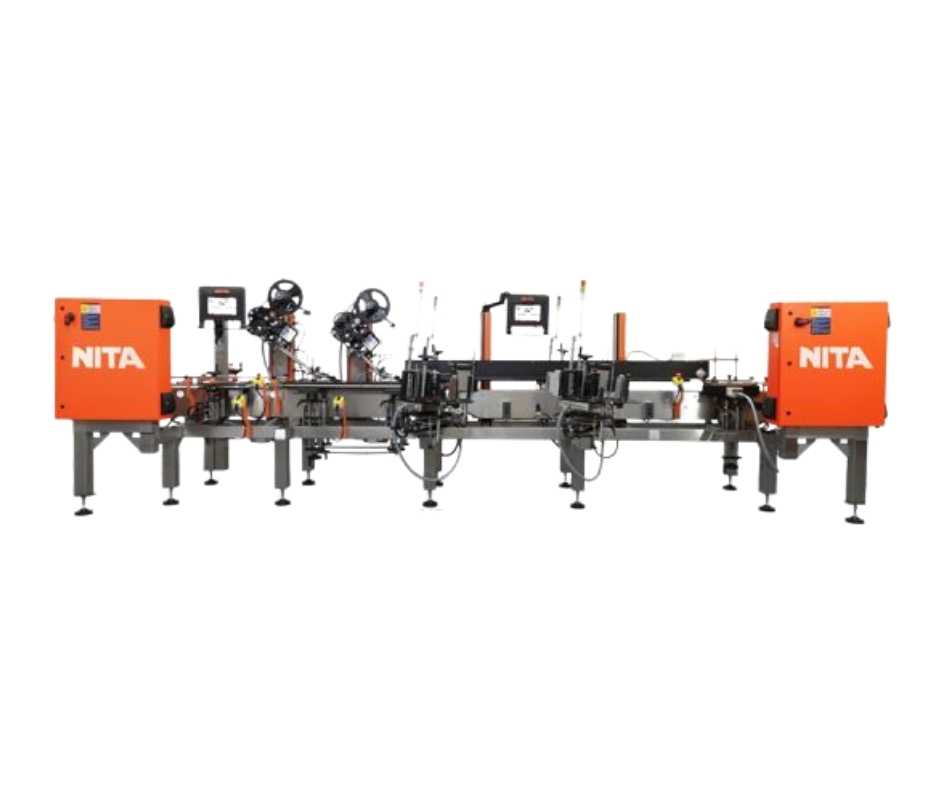 Sheapak's Non-Stop Labeling System
Redundant Retractable Labeling Heads.
Automatic Depleted Label Roll Switchovers.
Call us NOW to learn more about this and all of the other game-changing features you will only find on a Nita Sentient Labeling System.

1-855-668-NITA (6482) or email if you prefer at sales@nita.ca.
Sheapak's XP100T Labeling Machine
Machine Type: Versatile Label Applicator Machine
Labeling Applications: Front labeling, multi-panel labeling, full wrap labeling of round bottles, cans, pails, boxes, and more
Container Types: applies labels to plastic, glass, paper, cardboard, metal and most other materials
Built for speed, precision and extreme simplicity of operation, the XP100T labeling machine is engineered to perform with maximum productivity as well as maximum uptime.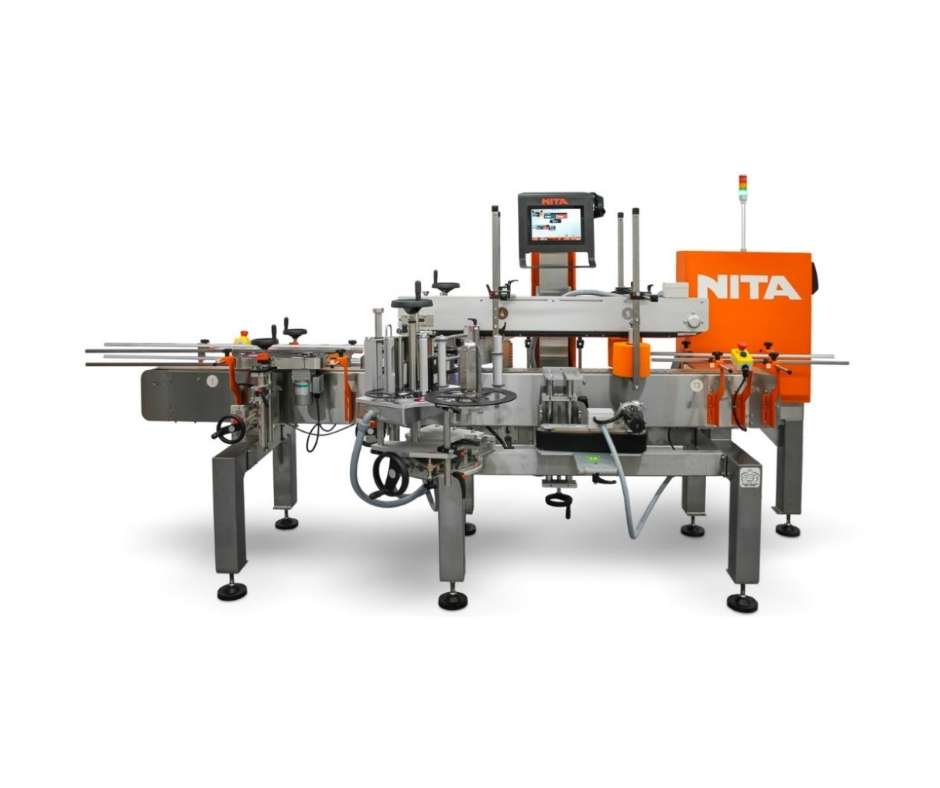 Label Applicator Machine for Boxes
Modern label printers and applicators for boxes have been designed for industrial labeling. This means that they are constructed using high-quality stainless steel materials that are perfect for any work environment. Each component will withstand repetitive use so that you don't have to worry about stopping production to make repairs. These are reliable machines that make box and case labeling easy.
Cardboard Box Labeling Machine
In the past, one of the biggest challenges associated with box labeling was the actual printing process. Printers were not nearly as fast or reliable as today's models. Digital printers can be programmed through a touchscreen with user-friendly software and quickly produce labels with variable information. Whether you need to print and apply a brand logo, nutritional information, or a barcode, there is a box labeling solution to meet your needs.
Automatic Box Labeling Machine
The main advantage of investing in a label applicator is that you will be able to automate a repetitive process and expedite production. As you look at different options, think about how much automation you will want and need. There are fully automatic machines that will print and apply labels to boxes with practically no human intervention required. Of course, these are most useful for companies that have space for larger equipment and want to achieve a high rate of production.
Smaller businesses may want to opt for a semi-automatic labeler. These come with varying degrees of automation, so you still have a lot of options when it comes to how much workers will need to be involved. Semi-automatic labelers tend to take up less space and feature a modular design. If you want to expand your business, your label printer and applicator can grow with you. Simply adding a new module will expand the machine's capabilities for a flexible and scalable solution. Even if you start with a semi-automatic labeler, you can easily incorporate more automation in the future.
Box Label Applicator Machines
Once the label has been printed, the applicator will use a blow and tamp process to accurately place the label and secure it in place. In fact, most labelers guarantee a label placement with only a 1/32" of room for error. You will be able to consistently and precisely place labels so that every product is a positive reflection of your brand. 
With pressure-sensitive adhesives, you don't have to worry about applying heat or water to activate the bond. The applicator will provide just the right amount of pressure so that the label is secured in place. This approach simplifies the production process while also ensuring that your products arrive at their destination with all the proper labeling in place. 
It is also important to keep in mind that there are machines that can handle any type of label or size of the box. From smaller products that only require a top label to large cartons and pallets that need corner wrap, there are no limits on what these machines can be programmed to do.
Labeling Machine for Boxes
Labeling machines for boxes can also play an important role in quality control. Photosensors can be strategically placed along the conveyor and take high-speed images that can instantly be processed and analyzed. If the sensors find that a label has been misplaced or there is another problem, that item can be diverted to another area so that the problem can be corrected and a defective product doesn't end up being shipped.  
Purchasing a label applicator machine for your boxes is one of the best investments you can make in your business. By freeing up valuable man-hours, you can refocus energy on growing your business. At the same time, you will be able to operate more efficiently and improve overall accuracy for high-quality boxes and labels. Perhaps best of all, these machines are designed to adapt and adjust as your business changes. You won't have to continually purchase new 
Equipment. That is why labelers provide an unbeatable ROI, no matter what size business you have or what goals you want to achieve.