A Guide to Cannabis Labeling Machines
As cannabis becomes legal in more states, the industry is experiencing an incredible boom with profits in the billions. Cannabis products are becoming mainstream and consumers expect the same quality of packaging and presentation as they do with any other retail item. The entire industry is maturing rapidly and more competition and start-up money is flooding the market. Even smaller enterprises need to pay attention to marketing and branding in order to gain traction. This includes investing in professional and efficient labeling and packaging equipment. 
Sheapak's XP100T Labeling Machine
Machine Type: Versatile Label Applicator Machine
Labeling Applications: Front labeling, multi-panel labeling, full wrap labeling of round bottles, cans, pails, boxes, and more
Container Types: applies labels to plastic, glass, paper, cardboard, metal and most other materials
Built for speed, precision and extreme simplicity of operation, the XP100T labeling machine is engineered to perform with maximum productivity as well as maximum uptime.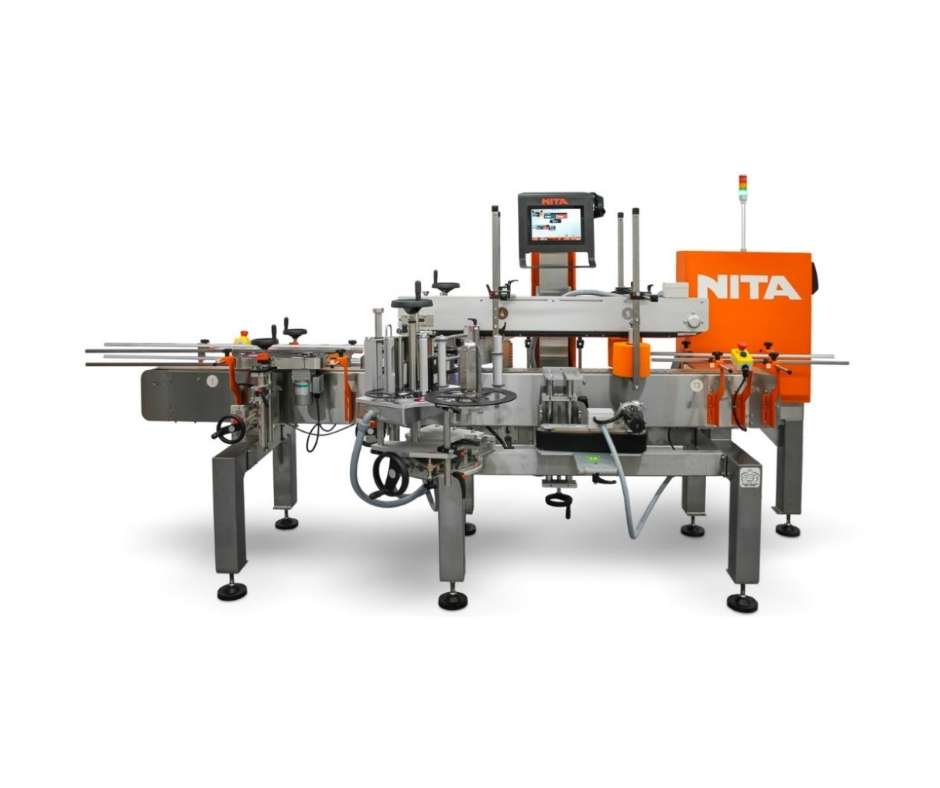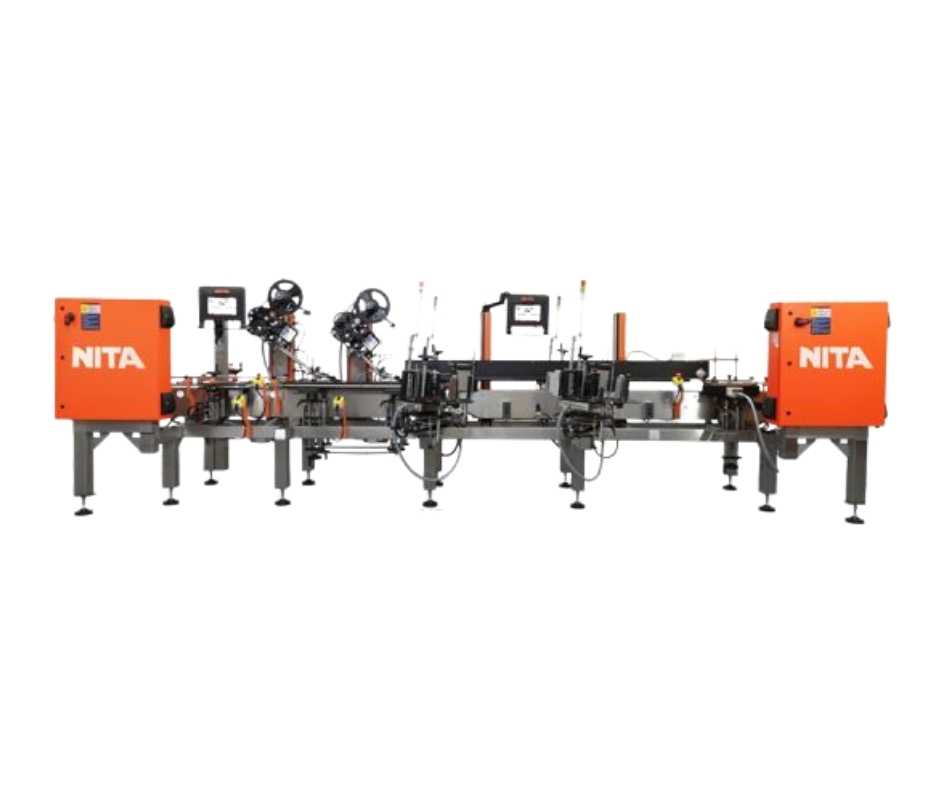 Sheapak's Non-Stop Labeling System
Redundant Retractable Labeling Heads.
Automatic Depleted Label Roll Switchovers.
Call us NOW to learn more about this and all of the other game-changing features you will only find on a Nita Sentient Labeling System.

1-855-668-NITA (6482) or email if you prefer at sales@nita.ca.
Sheapak's XP100T WRAP Labeling Machine
Machine Type: Wrap labeler
Labeling Applications: Full wrap, partial wrap, orientation applications on cans, bottles, and other round container products
Container Types: Wraps round glass, plastic, metal and paper containers
Built for speed, precision and extreme simplicity of operation, the XP100 Wrap labeling machine is engineered to perform with maximum productivity and uptime in mind.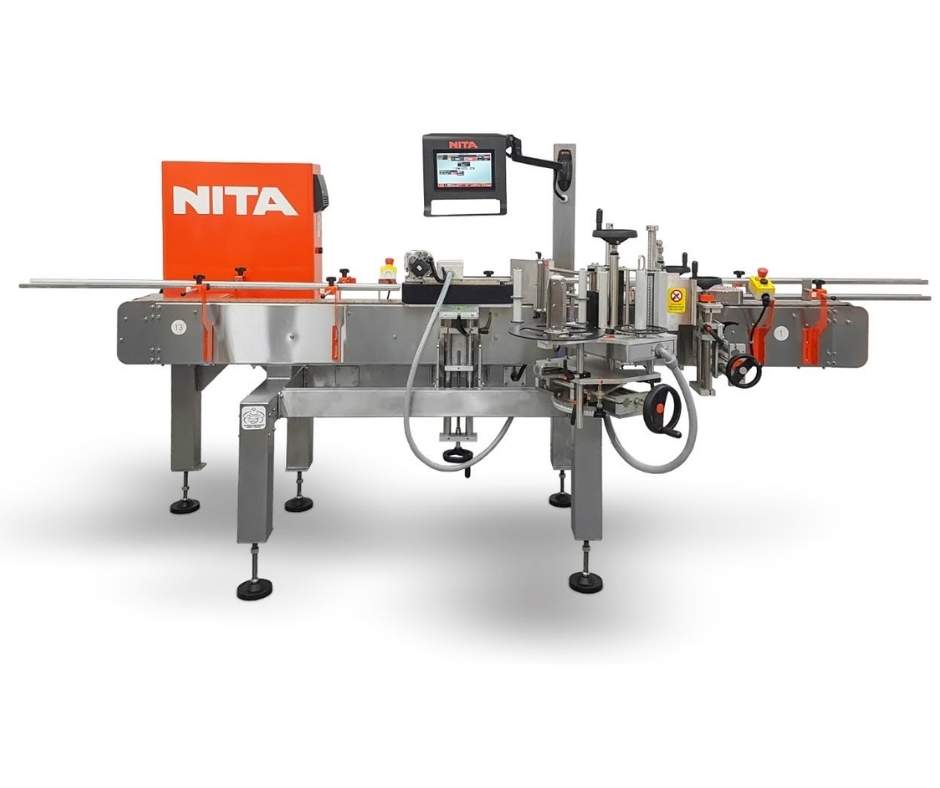 Cannabis Packaging and Labeling Equipment
Cannabis products cover a wide range. From edible candies and teas to concentrates and smokables, companies are continually finding new ways to package and deliver hemp and cannabis products. From a packaging and labeling perspective, this can create some unique challenges. Cannabis companies need to be able to produce labels that can be firmly affixed to everything from bags and boxes to bottles and glass jars. Without the right strategy and equipment, managing all these label demands could become costly when it comes to time and labor.
Fortunately, there are packaging and labeling solutions to support every size company within the cannabis industry. Some companies may be managing their labeling by hand and ready to introduce a certain level of automation into their production line. You don't have to invest in a large and expensive piece of equipment. There are tabletop solutions that can exponentially improve the labeling process for better efficiency. This allows companies to scale at their own pace.
Industrial Label Printer for Cannabis Labels
If you are operating a larger cannabis operation, you need a labeling solution that fits your needs. Industrial label printers for cannabis product labels are equipped with the latest technology and designed to be highly adaptable. There is no need to purchase separate labeling machines for different types of packaging. All your labeling needs can be met by a single piece of machinery.
The most sophisticated industrial cannabis labeling machines allow you to label one or both sides of the package or opt for a wrap-around design. Touch screen displays allow you to operate the machine and automated aligners hold the product securely in place. You will be able to accurately place every label. It only takes a few touches of a button to program the machine and put production into process.
When your production needs change, your labeling equipment can easily be updated. Today's machines feature a modular design so that you can easily add new capabilities and move the equipment to different areas of your facility. Once you make your initial investment in an industrial cannabis labeling machine, you can feel confident that your equipment will continue to grow with your company without becoming obsolete.
There are many states where marijuana is treated similarly to any other retail product. That means that there is competition among dispensaries to not only get customers through the door but convert them into loyal patrons. As with any product, branding comes into play. Dispensaries want to create a recognizable name for themselves in order to help build credibility and garner new attention. A lot of that comes down to an attractive logo and consistent branding and packaging.   
Fortunately, color label printers can produce custom labels and automate the application process. More sophisticated labeling solutions even include PLC controls so that the production line is being continuously monitored. The labeling and packaging system is capable of identifying missing labels and halting production so that a seemingly small error doesn't affect the entire line. This also helps dispensaries produce a consistent product.
With the cannabis industry becoming increasingly competitive and lucrative, it is important for individual companies to make their mark. A high-speed marijuana label printer can play a pivotal role in supporting the business and making sure that every product looks professional and is a good ambassador for the brand. 
Whether you are a small business or a major playing in the cannabis industry, having the right equipment can allow you to meet both long and short-term goals. In addition to printing brand labels, it is important to consider that you will also need barcode labels for each product. Barcodes and scanners are essential to the POS experience and keeping track of inventory. 
The ability to print both labels and barcodes in-house can be invaluable. While this task can be outsourced to printers, going this route means giving up a certain amount of control. There may be times where the printing company runs into delays or has problems in their own supply chain. Ultimately, their problems will trickle down to your business. Investing in a marijuana label printer provides you with the flexibility you need to problem solve as issues arise. 
If you own or operate a cannabis dispensary, investing in a label printer should be at the top of your list of priorities. This technology allows you to automate tasks so that you can save time and money and enjoy a more accurately packaged and labeled product. You may also want to consider the advantages of purchasing capping machines and other packaging equipment. In today's modern business world, automation is key. If you aren't using automated label printers and applicators, there is a pretty good chance that your competitors are. Anything you can do to get a leg up and improve the overall efficiency of the production line till have a positive impact on your business.
There are label solutions that have been designed especially for the cannabis industry. These machines directly address the challenges of the industry and offer solutions that are affordable and scalable. Specifically, cannabis labeling machines can handle all the different types, sizes, and shapes that cannabis products come in. As you add new products to your store, your label machine will be able to adapt and scale as business increases. There is no need to mess around with hand labeling and packaging. Instead, you can free up valuable man hours and deliver a great product.