Bottle Labeling Machines
Manufacturing products and getting them to customers comes with a lot of challenges. Printing and applying labels is one of the last steps before products are ready to be distributed and it is one of the most important aspects of branding. A well-designed and perfectly placed label will advertise your brand and make sure that your products get noticed on the shelf. That is why even small businesses are investing in labeling systems. Learn more about the different features and benefits of labeling equipment.
Sheapak's Front and Back XP200T Labeling Machine
Powerful And Versatile Label Machine For Front Or Multi-Panel Labeling
Machine Type: Front and back label machine
Label Applications: Front and back labeling, multi-panel labeling, full wrap labeling
Container Types: Label machine applies labels to plastic, glass, bottles, paper, cardboard, metal, round bottles, vials, and most other materials
Built for speed, precision and extreme simplicity of operation, the XP200T labeling machine is engineered to perform with maximum productivity and uptime in mind.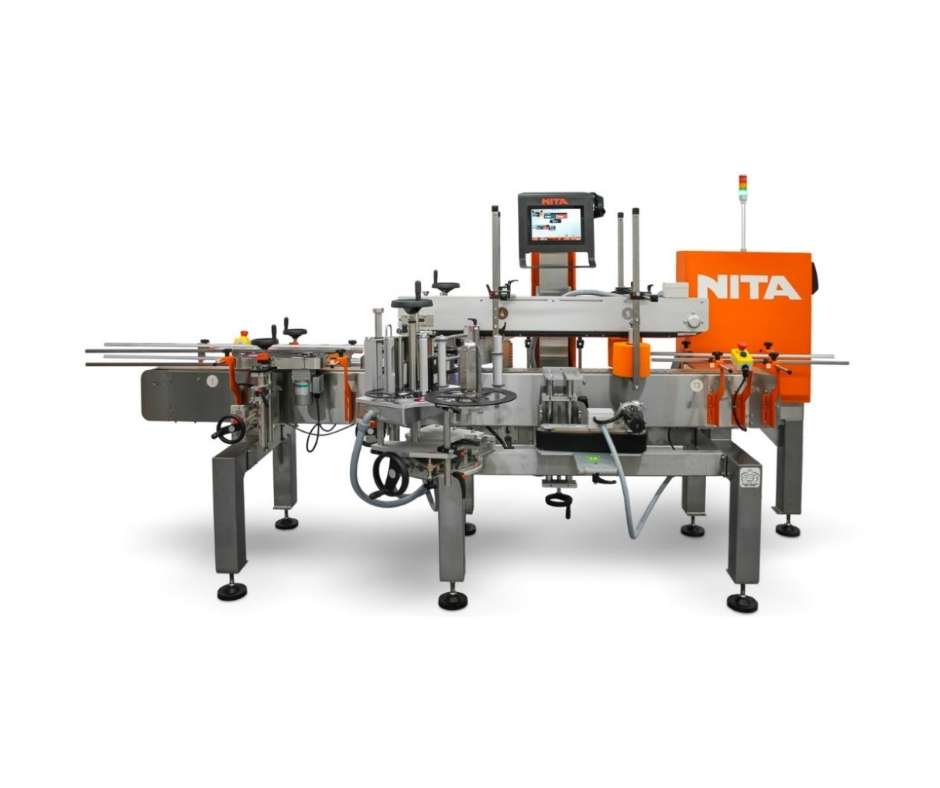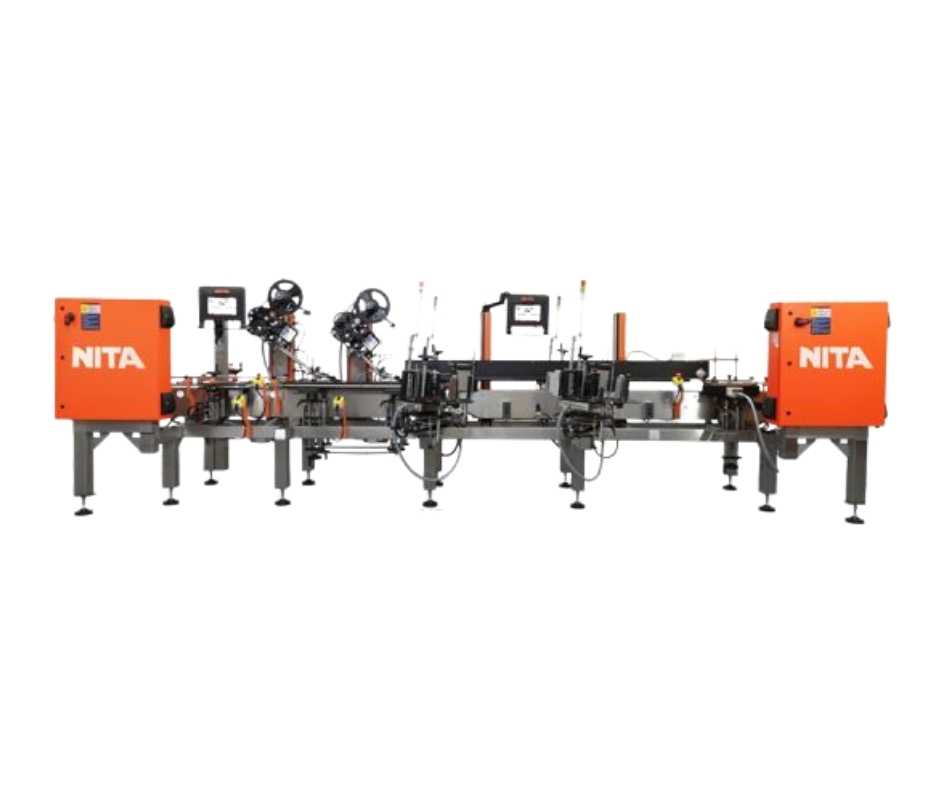 Sheapak's Non-Stop Labeling System
Redundant Retractable Labeling Heads.
Automatic Depleted Label Roll Switchovers.
Call us NOW to learn more about this and all of the other game-changing features you will only find on a Nita Sentient Labeling System.

1-855-668-NITA (6482) or email if you prefer at sales@nita.ca.
Sheapak's XP100T Labeling Machine
Machine Type: Versatile Label Applicator Machine
Labeling Applications: Front labeling, multi-panel labeling, full wrap labeling of round bottles, cans, pails, boxes, and more
Container Types: applies labels to plastic, glass, paper, cardboard, metal and most other materials
Built for speed, precision and extreme simplicity of operation, the XP100T labeling machine is engineered to perform with maximum productivity as well as maximum uptime.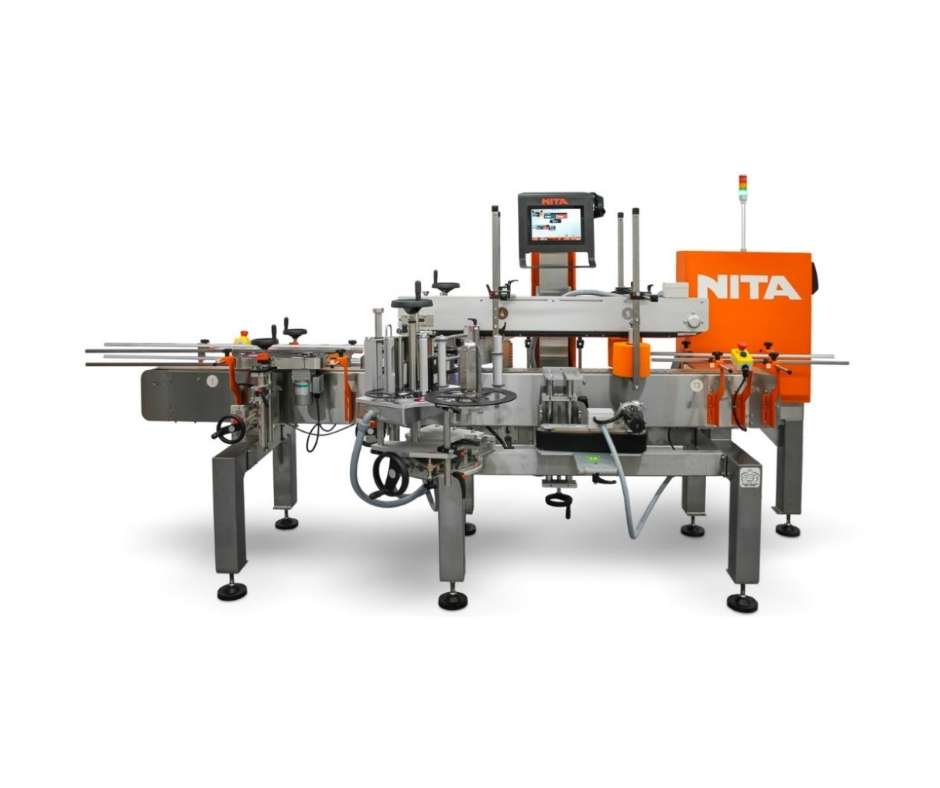 Commercial Bottle Labeling Machine
Applying water bottle labels or wrapping beer bottles in the brand label may seem uniquely challenging. Dealing with a curved surface can certainly be difficult. Fortunately, commercial bottle labeling machines are up to the task and can accurately place labels at a fast rate for better overall operational efficiency. No matter the size or exact shape of the bottle, labeling machines are designed to securely put the product in place and expertly apply the label in a way that creates a secure bond and an attractive product.
If you have spent any time manually labeling bottles, you know that it can be a slow and tedious task. Automatic labeling machines provide an affordable solution that offers an excellent ROI. Utilizing a semi or fully automatic labeler will free up valuable man hours while also eliminating the risk of human error. 
In fact, many bottle applicators come with advanced sensors that will scan each product and conduct quality control. If a product or label is defective, the sensors can instantly recognize the mistake and remove the bottle from production without slowing down any aspect of the manufacturing process. You can feel confident that every bottle is a solid representative of your brand and your commitment to quality.
Label Printer for Bottles
Label printers are just as advanced and impressive as the applicators. With the right equipment, you can print labels on the spot and include variable data for a truly versatile solution. Whether you need to print a unique barcode for each bottle or you want to print a vibrant, full color label, the options are limitless. Label printers make it easy to design custom bottle labels and highlight your brand. 
As the labels are printing the excess backing will be neatly rolled up so that you can easily dispose of it. This is a great feature that will keep your workplace neat. For small businesses that are dealing with limited space, a compact and efficient label printer is a must.
Industrial Bottle Labeling Machine
Bottles often contain liquids meant for human consumption, which means that industrial bottle labeling machines need to avoid contaminating products. Labeling equipment is made of stainless steel so that it can withstand any work environment and safely print and label any bottle. These machines are also designed for repetitive use. They can continue to produce results with little maintenance or need for repairs.
When it comes to labeling food products, labeling machines actually provide a much safer solution compared to having employees handle each bottle. Even with semi automatic options, human intervention typically means pressing a button. The fewer people that handle the product, the less possibility there is for contamination of beer, water, or other bottles.
Labeling Machine for Bottles
Another benefit of labeling machines is that they use pressure sensitive technology to bond the label to the product. In the past, adhesives needed to be activated with water or heat. This just added another layer of complication to the production line. Fortunately, today's labeling equipment can apply just the right amount of pressure to activate the adhesive and make sure that the label will stay in place.
Labeling machines are also incredibly flexible and scalable. If you want to ramp up production or you have added a new product, you can easily update your equipment. With a modular design, you can expand the capabilities of your equipment simply by adding a new module. You won't have to worry about having to replace equipment as your business changes. Everything can be updated and adjusted to meet the changing needs of your business. 
If you are looking for more efficient ways to handle your production process that will improve accuracy while also cutting costs, then it is time to invest in a labeling system. Whether you have a simple label or one that wraps around the entire bottle, there is equipment that can handle all your labeling needs.