Label Orientation Systems
The SynerG XP series of label orientation systems are designed to position your containers exactly where you need them. Using professional grade optical or sensory equipment, the various orientation modules available will position the container according to pre-set reference points. With the orientation labeling system containers may be oriented by one of the following mechanisms:
Digital sensor: Recognizes and orients to physical features like handles.
Cognex checker: Sees and orients container against contrast points like color and design topography
High Res Camera: Takes a picture and matches the container orientation up to the memorized image.
Produced as a Stand-Alone Orientation Unit or integrated into a powerful Nita Smart Labeling System.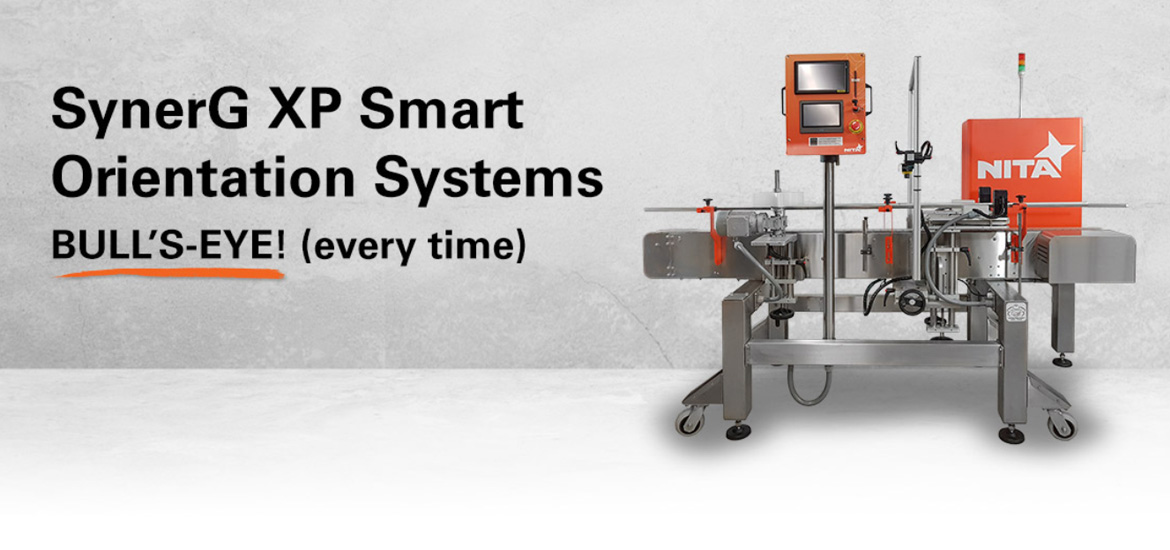 Labeler Type & Specifications
Orientation System For Labeling Machines
Machine Type: Label machine orientation system
Labeling Applications: Orients containers for labeling
Container Types: Orients glass, plastic, paper, cardboard, most other surfaces
All Nita labeling machines are built for fast labeling and quick change-overs.
Other Labeling Machine Advantages:
100% Non-Proprietary Electronics
Recipe System with Calibrated Adjustment Stations
Servo Motors and Programmable Drives
Software Managed with Remote Login Troubleshooting
Precision Labeling to 1/32"
Blistering 1570" Per Minute Application Speed
Labeler has All Stainless Steel Parts
Vision Camera and Checker systems for Pinpoint Orientation
Variable Information Coding Options
Print Engine, Scanner and Reject Station Integration Options
16" OD Rolls (Standard 12" with 3" Cores)
Wide Web widths up to 12" (Standard 6")
IP65 Full Machine Wash Down Kits