Pressure Sensitive Labeling Equipment
The vast majority of today's labeling machines rely on pressure-sensitive adhesive technology. This approach helps to streamline the entire production process while also delivering labels with a strong bond that will keep them in place. Learn more about this type of adhesive and how pressure-sensitive labeling equipment may be able to support and accelerate your business.
Sheapak's Front and Back XP200T Labeling Machine
Powerful And Versatile Label Machine For Front Or Multi-Panel Labeling
Machine Type: Front and back label machine
Label Applications: Front and back labeling, multi-panel labeling, full wrap labeling
Container Types: Label machine applies labels to plastic, glass, bottles, paper, cardboard, metal, round bottles, vials, and most other materials
Built for speed, precision and extreme simplicity of operation, the XP200T labeling machine is engineered to perform with maximum productivity and uptime in mind.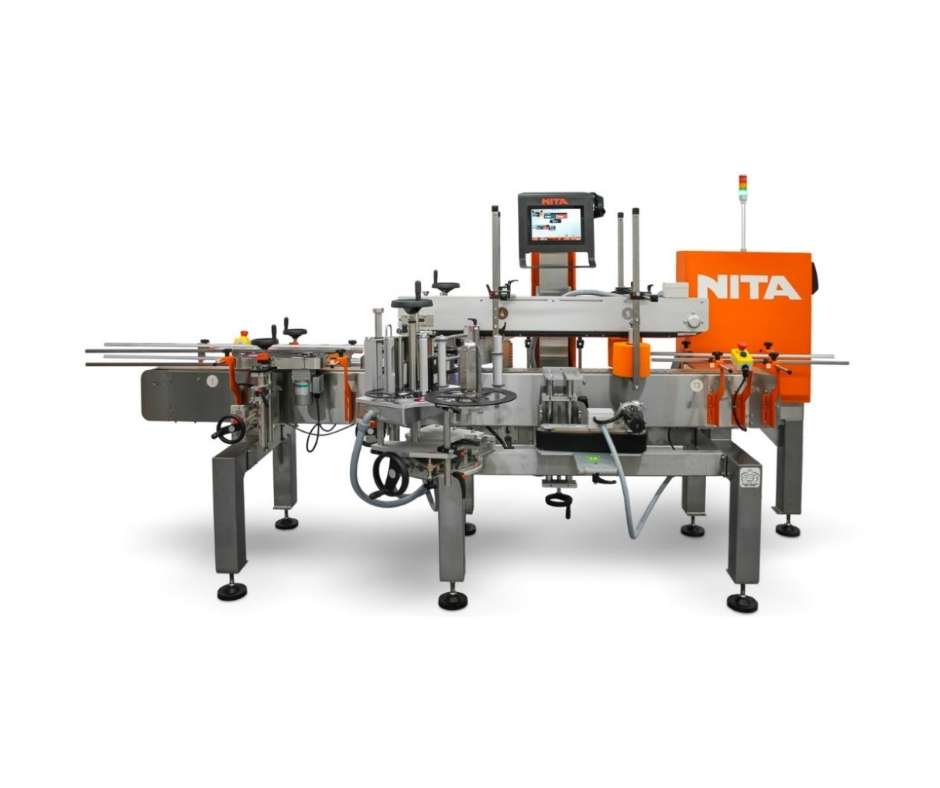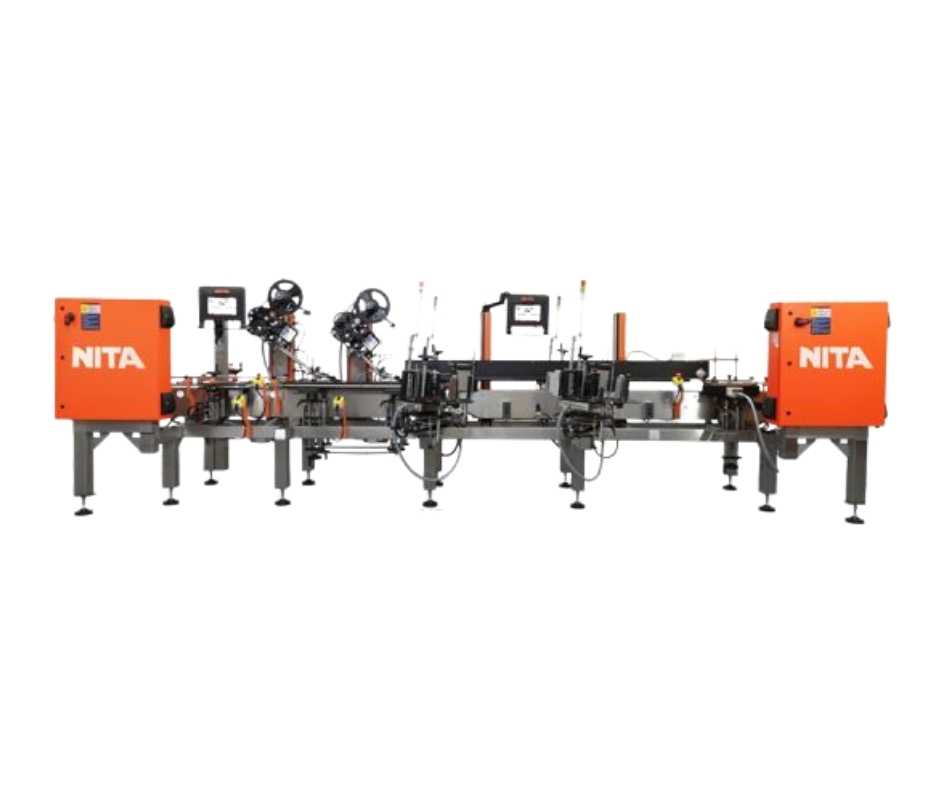 Sheapak's Non-Stop Labeling System
Redundant Retractable Labeling Heads.
Automatic Depleted Label Roll Switchovers.
Call us NOW to learn more about this and all of the other game-changing features you will only find on a Nita Sentient Labeling System.

1-855-668-NITA (6482) or email if you prefer at sales@nita.ca.
Sheapak's XP200T-P Pail Labeling Machine
Powerful And Versatile Labeler For Front Or Multi-Panel Labeling Of Buckets, Pails, Jugs And Tubs
Machine Type: Pail labeling machine, pail labeler, bucket labeler
Labeling Applications: Front labeling, multi-panel labeling, full wrap labeling
Container Types: Labels round or square plastic buckets, jugs, pails, tubs, metal and most other materials
Built for speed, precision and extreme simplicity of operation, the XP Pail Series of labeling machine is engineered to perform with maximum productivity and uptime in mind.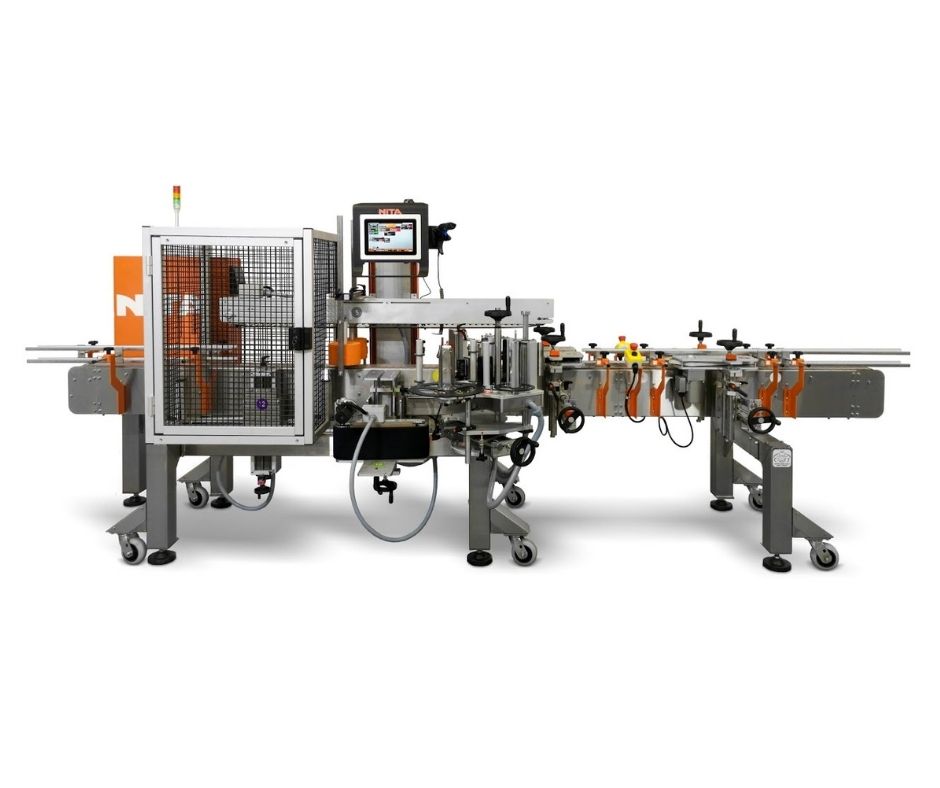 Pressure Sensitive Labels
In the past, many adhesives needed either heat or water to be activated. As you can imagine, this complicates the labeling process and makes automation even more difficult. That is why pressure-sensitive labels have become such a popular alternative. An even amount of pressure from the applicator is enough to activate the adhesive and create a lasting bond that can withstand moisture and extreme temperature fluctuations. 
Companies can choose among models that either offer just an applicator or a printer and applicator so that you can create custom designs. Either way, the labels will be stored on a roll that is then fed through the labeler. Sensors detect when the product is perfectly in place and the label is blown onto the product. Additional sensors ensure that there haven't been any mistakes, such as a missing label or two labels. Finally, the labeling head uses tampers to apply the necessary pressure to activate the adhesive while also preventing bubbles for a smooth surface. The label backing is rewound into a roll so that you can keep your workplace tidy and easily dispose of the waste. 
High-Speed Pressure Sensitive Labelers
Some of the main advantages of pressure-sensitive labelers are speed and efficiency. If you have been manually applying labels to your products, you know how time-consuming this can be. It also limits the number of products that you can push to market. For those companies who are focused on growth and want to be able to scale quickly, a high-speed pressure-sensitive labeler is a must. 
Pressure-sensitive labelers come in both fully automatic and semi-automatic versions. If you are a small business working on a tight budget, a semi-automatic model can provide a cost-effective option that will allow you to redirect valuable man-hours to other projects and increase your production rate. While the number of products you are able to accurately label in an hour will depend on several variables, your production rate can grow by 500%. That can make a major impact on your business.  
Pressure Sensitive Label Applicator
Product packaging can come in all shapes and sizes, from bottles and cylinders to tubes and bags. Fortunately, pressure-sensitive label applicators are equipped to handle all these challenges and provide a cost-effective solution for precise product handling. No matter what the shape of your packaging, a pressure-sensitive label applicator will be able to perfectly position the product, secure it in place, and precisely place the label. Best of all, the labeler can consistently perform these tasks hundreds of times per hour.
Pressure Sensitive Labeler
Pressure-sensitive labels are also a sound investment because they can easily be integrated into existing printing and conveyor systems or upgraded as needed. These are truly versatile machines that are designed to adapt to a dynamic work environment. In fact, a single machine can be used to print and apply custom labels to different products. One machine can perform a variety of tasks based on your needs.
In addition, labeling systems are purposefully designed to be easy to upgrade. Let's say that your company has added a new product to your offerings and you need to go from just applying labels to printing and labeling in-house. With modular designs, you can easily expand the capabilities of your existing machinery and create a new solution that meets your evolving needs. Your initial investment will continue to provide a great ROI and change as needed.
Pressure Sensitive Label Applicator Machine
While pressure-sensitive label applicator machines are designed to be durable and perform in demanding work environments, there is still a chance for malfunction. Regular maintenance will go a long way to prevent problems and prolong the life of your machinery, but you also want to know that you can quickly troubleshoot a defect and reduce costly downtime as much as possible. That is why it is important to look for label applicator distributors that put an emphasis on customer service and can quickly dispatch a qualified technician to your location. You may not be able to afford to stop production for a few days and the right company will help you get back up and running in no time.