Product Label Printers
Product labels play an important role in branding and compliance. Different industries have requirements when it comes to what information needs to be displayed on products. At the same time, labels help to provide a visual cue to consumers and send a message about the product. Hopefully, the label becomes a recognizable image that helps to build brand awareness. For these reasons and more, product label printers are an essential tool in production and distribution.
Sheapak's Front and Back XP200T Labeling Machine
Powerful And Versatile Label Machine For Front Or Multi-Panel Labeling
Machine Type: Front and back label machine
Label Applications: Front and back labeling, multi-panel labeling, full wrap labeling
Container Types: Label machine applies labels to plastic, glass, bottles, paper, cardboard, metal, round bottles, vials, and most other materials
Built for speed, precision and extreme simplicity of operation, the XP200T labeling machine is engineered to perform with maximum productivity and uptime in mind.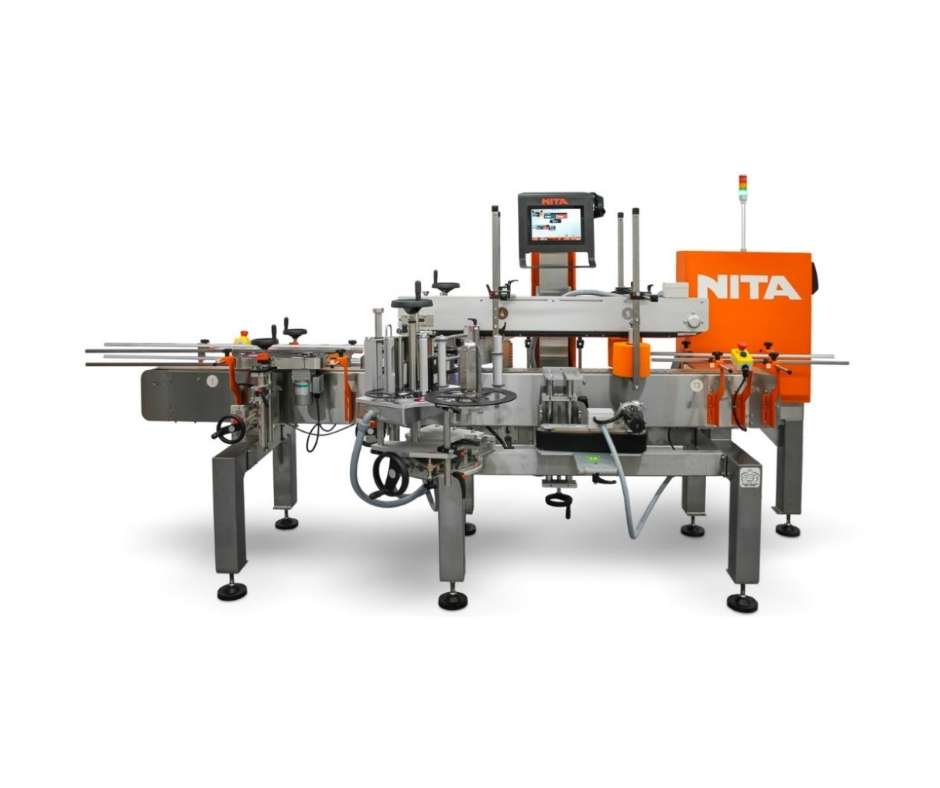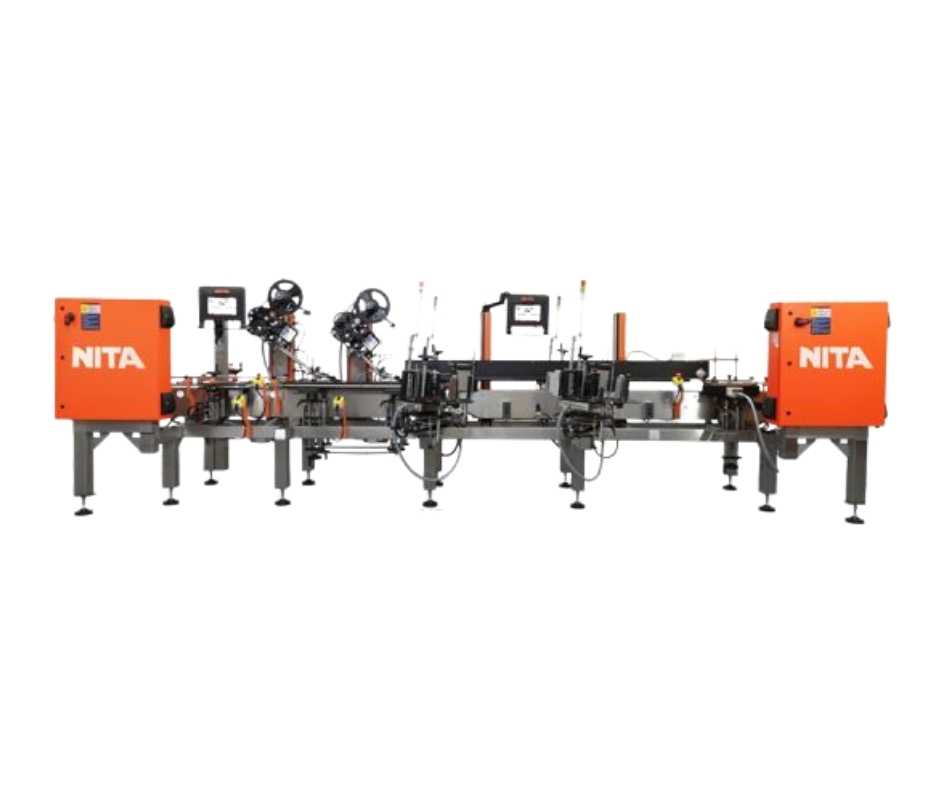 Sheapak's Non-Stop Labeling System
Redundant Retractable Labeling Heads.
Automatic Depleted Label Roll Switchovers.
Call us NOW to learn more about this and all of the other game-changing features you will only find on a Nita Sentient Labeling System.

1-855-668-NITA (6482) or email if you prefer at sales@nita.ca.
Sheapak's XP200T-P Pail Labeling Machine
Powerful And Versatile Labeler For Front Or Multi-Panel Labeling Of Buckets, Pails, Jugs And Tubs
Machine Type: Pail labeling machine, pail labeler, bucket labeler
Labeling Applications: Front labeling, multi-panel labeling, full wrap labeling
Container Types: Labels round or square plastic buckets, jugs, pails, tubs, metal and most other materials
Built for speed, precision and extreme simplicity of operation, the XP Pail Series of labeling machine is engineered to perform with maximum productivity and uptime in mind.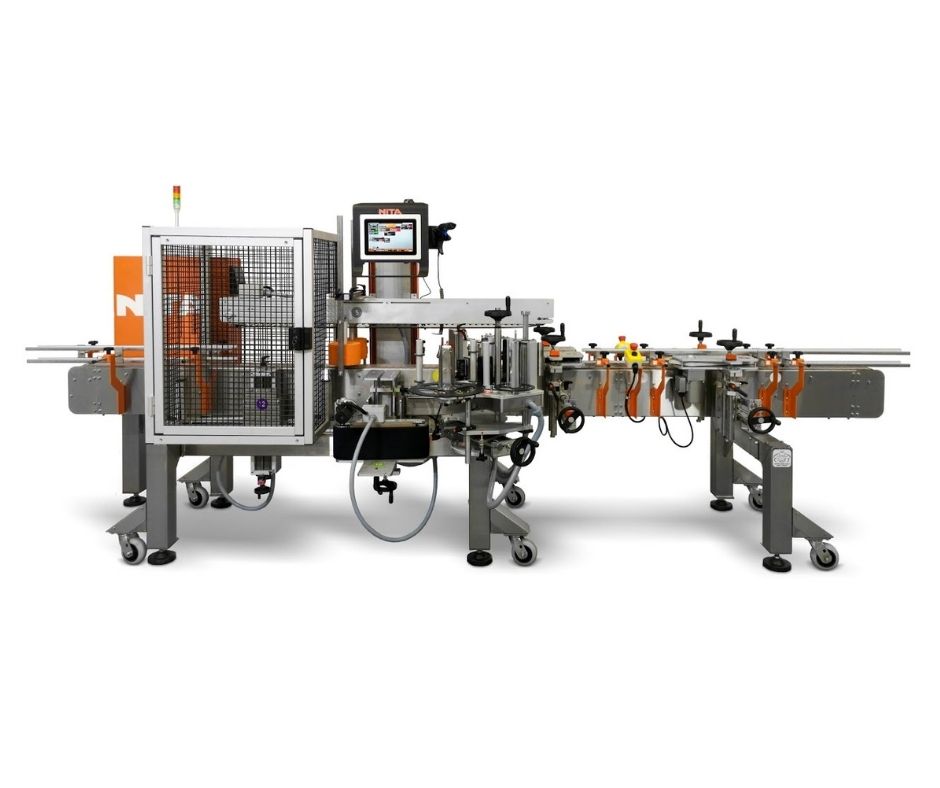 Product Label Printer Machine
Investing in a product label printer machine allows businesses to handle their label designing and printing in-house. Instead of partnering with a printing business, companies can have more control over their labeling process. While hiring a printing company and outsourcing this task may be the right decision for some, it also introduces more potential for delays. A problem in the supply chain or other disruptions could mean that your labels aren't delivered on time. One way to avoid this is by using your own label printer.
In some cases, labels are a simple black and white design with a barcode and other important information. However, many brands employ complex designs with bright colors and eye-catching graphics. Fortunately, color label printers are able to handle even the most complex labels and consistently print accurate labels.
If you are looking for a label printer model that provides robust design features, you will have plenty of affordable options. These devices come with touchscreens, user-friendly software, and a whole host of capabilities that will allow you to design labels and program printing preferences. Whether you need to print a short run on labels or you need to include variable data, every detail can be programmed into the printer for a customized experience.
Product Label Printing Machine
If you operate a small business, investing in a product label machine can feel like a major expense. Fortunately, these machines are available at a variety of price points that all offer an excellent ROI. As you would imagine, fully automated models that print, cut, and apply labels are at the high end of the price range. However, there are practically an infinite number of other options available. 
For the time being, you may only need a small printer that allows you to design and print on demand and in full color. This level of machine is relatively inexpensive and will support your needs and your business. As your business grows and your needs change, you can upgrade your printer and/or add an applicator. 
No matter how much you invest in a product label printing machine, you can feel confident that your investment will continue to pay off. Label printers are able to improve efficiency, produce quality labels, and help you cut costs. The printer will quickly pay for itself and you will be able to enjoy a reliable printer to help build brand awareness, inventory tracking, shipping, compliance, and much more. 
Commercial Product Label Printer
For larger projects that require a fast production rate, a commercial product label printer may be the best solution. As mentioned above, these machines can be expanded to include a wide range of capabilities. Printing the labels is only the first step. Modules can be added so that you can easily cut and apply labels to any size and shape container. This allows your printing system to expand as needed without requiring you to purchase all new equipment. 
Commercial label printers are built using high-quality components so that they can withstand repetitive use and continue to perform. With regular maintenance and monitoring, you won't have to worry about frequent repairs that interrupt production and cause costly downtime. 
No matter what industry you are a part of, technology is increasing competition and making it harder to stay on top. That is why utilizing available tools, including label printers, is so important. In fact, it may be the thing that gives you the competitive edge.