Distillery Labeling Machine
More people have become interested in the process of creating spirits, which has given rise to craft distilleries. Customers can now sample a wider range of creative products rather than always turning to the same big brands. At the same time, distillers are having to face production challenges so that they can quickly get their products to market and meet demand. Fortunately, distillery labeling machines are able to increase production, improve quality control, and help fulfill orders.
Sheapak's Front and Back XP200T Labeling Machine
Powerful And Versatile Label Machine For Front Or Multi-Panel Labeling
Machine Type: Front and back label machine
Label Applications: Front and back labeling, multi-panel labeling, full wrap labeling
Container Types: Label machine applies labels to plastic, glass, bottles, paper, cardboard, metal, round bottles, vials, and most other materials
Built for speed, precision and extreme simplicity of operation, the XP200T labeling machine is engineered to perform with maximum productivity and uptime in mind.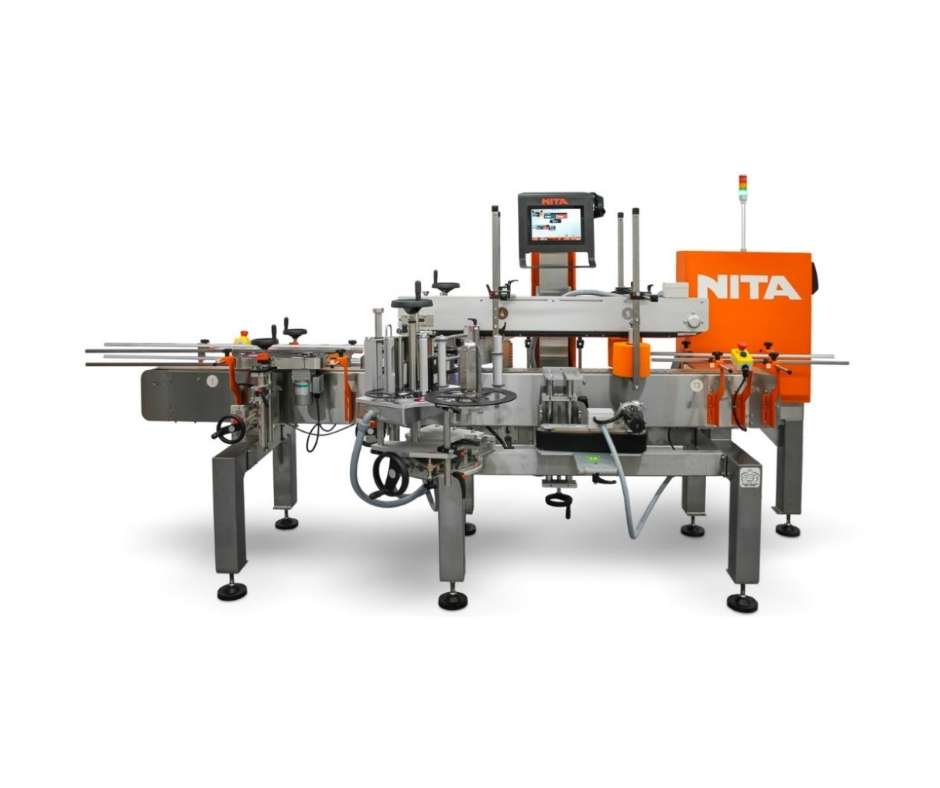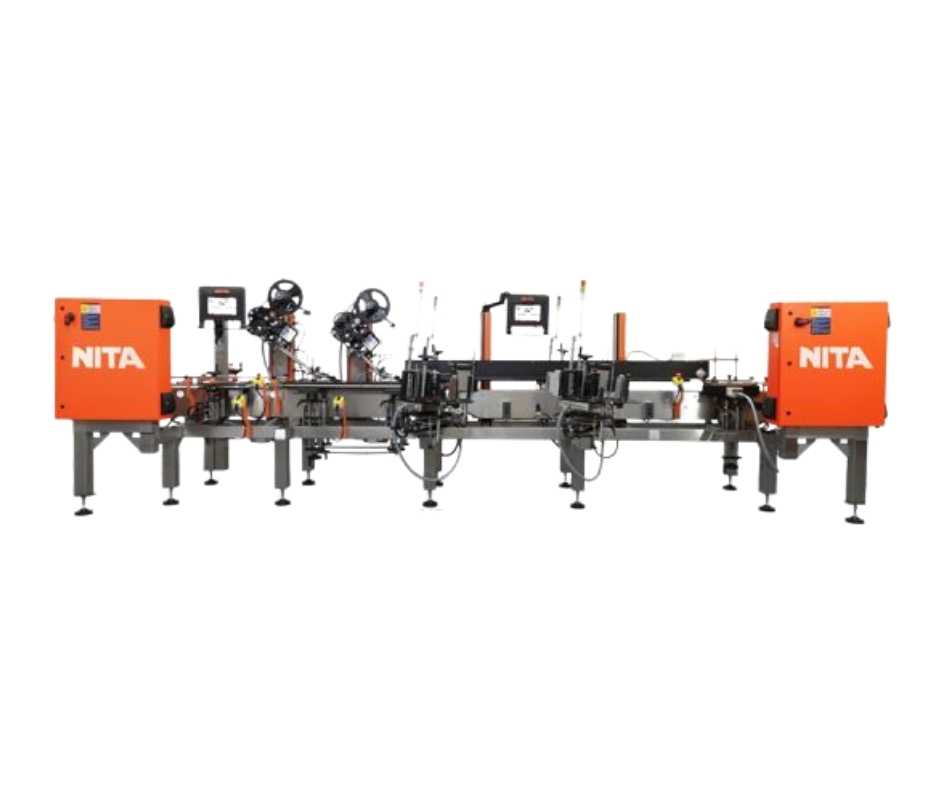 Sheapak's Non-Stop Labeling System
Redundant Retractable Labeling Heads.
Automatic Depleted Label Roll Switchovers.
Call us NOW to learn more about this and all of the other game-changing features you will only find on a Nita Sentient Labeling System.

1-855-668-NITA (6482) or email if you prefer at sales@nita.ca.
Sheapak's XP100T Labeling Machine
Powerful And Versatile Labeler For Front Or Multi-Panel Labeling Of Buckets, Pails, Jugs And Tubs
Machine Type: Pail labeling machine, pail labeler, bucket labeler
Labeling Applications: Front labeling, multi-panel labeling, full wrap labeling
Container Types: Labels round or square plastic buckets, jugs, pails, tubs, metal and most other materials
Built for speed, precision and extreme simplicity of operation, the XP Pail Series of labeling machine is engineered to perform with maximum productivity and uptime in mind.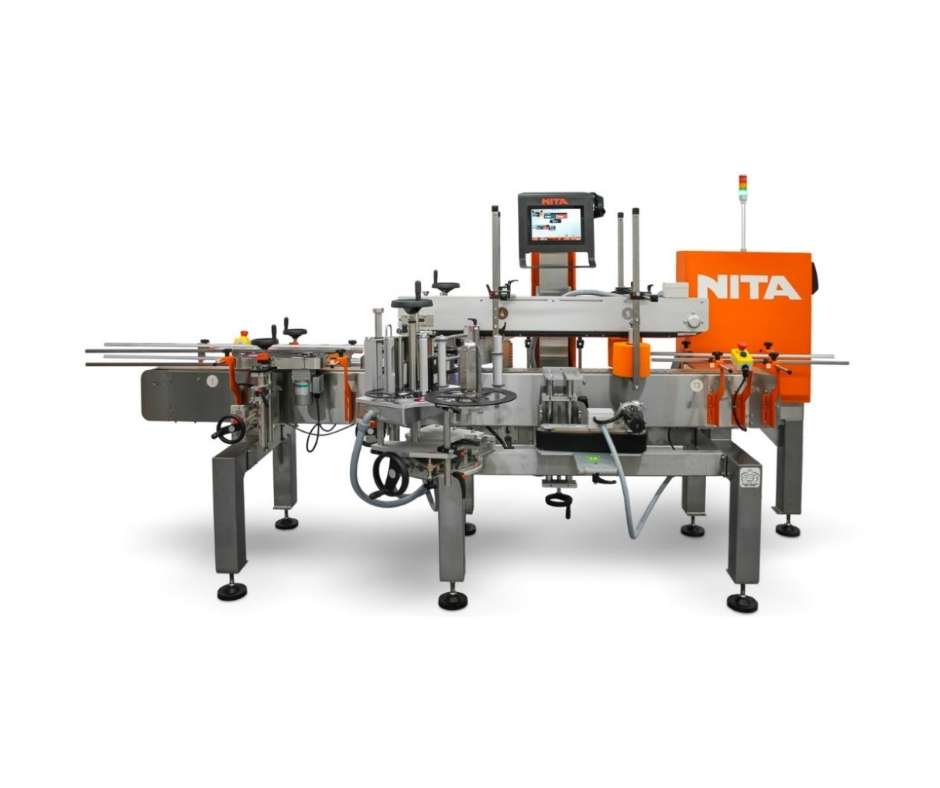 Automatic Labeling Machine
Most distillers will start with manually labeling, but this can quickly become a cumbersome and time-consuming process. In addition, manual labeling leaves plenty of room for human error and even the most detail-oriented employees won't be able to match the precision and accuracy of a labeling machine. Fortunately, labeling machines offer a range of features at various price points so that even new businesses can afford to invest in a machine that will drive growth.
You can choose the level of automation you want based on your production needs, budget, and space. Fully automated machines can feed the bottles into the production line, apply the labels, use advanced vision systems for quality control, and much more. As you would expect, these machines will take up more floor space and come with a higher price tag. 
However, there are also semi-automatic options that are more budget-friendly and will still help to exponentially increase production rates. For example, there are options that require an employee to feed the bottles into the machine where they are then labeled and moved to the next station. Once you are able to define your current needs and your goals for the future, you will be able to find the right label application system.  
Label Machine for Bottles
The cylindrical shape of spirit bottles can create some challenges when it comes to labeling and packaging. Applying a wraparound label by hand and making sure that the seams meet up perfectly is no easy task. That is why labeling machines for bottles lock the container securely in place so that the label is applied evenly and consistently. Perfectly positioned labels not only help build brand recognition but also instill confidence in the company and make you look more professional.
Automatic Round Bottle Labeling Machine
Another challenge that comes with labeling spirits bottles is moisture. As the bottles are packaged and shipped, they will experience changing temperatures and humidity levels, which can lead to moisture and condensation on the outside of the bottle. Labels that are applied using an adhesive can begin to shift and peel.
Modern labeling machines have solved this problem with pressure-sensitive labeling. Instead of using moisture or heat-activated adhesive backing, today's machines are carefully calibrated to apply just the right amount of pressure to ensure a secure fit that will stay in place throughout the life of the bottle. You can feel confident that your labels will look good once your products arrive at retailers and you don't have to deal with the mess and complications that can come with other adhesion techniques.
Bottling and Distillery Labeling Equipment
Perhaps one of the biggest advantages of investing in bottle and distillery labeling equipment is that it is completely scalable. When you are first starting out, a semi-automatic machine might make the most sense. However, as your business continues to grow, you may need to speed up production even more. Instead of investing in a whole new machine, you can simply update your current equipment to meet your changing needs.
Labeling equipment features a modular design so that you can easily add new functionalities. Your equipment can grow with your business and continue to provide a valuable return on your investment. 
Some of the most advanced options are fully automated and programmed to monitor for quality control. These machines can be programmed to print and apply labels with variable data. You can also opt for vision systems that include cameras and scanners that communicate with sophisticated software to make sure that every bottle is properly labeled according to brand standards and other compliance requirements. If the system detects an issue, such as a missing or duplicate label, that container can be directed off the line without production having to skip a beat.  
When it comes to distillery bottling labelers and applicators, there truly is a full range of features and options available. If you want to take your small craft business to the next level, a label applicator may be just the solution you need to start scaling up.