Print and Apply Label Systems
When it comes to industrial labeling, there are a variety of label options. Some companies choose to have their label printing outsourced. Essentially, they can work with a designer and hire a label printing company to mass-produce and deliver the labels. The brand is responsible for actually applying the labels to each product. While this may be the best route for some, there is a more customizable and controlled approach to creating a print and apply label system.
Sheapak's Front and Back XP200T Labeling Machine
Powerful And Versatile Label Machine For Front Or Multi-Panel Labeling
Machine Type: Front and back label machine
Label Applications: Front and back labeling, multi-panel labeling, full wrap labeling
Container Types: Label machine applies labels to plastic, glass, bottles, paper, cardboard, metal, round bottles, vials, and most other materials
Built for speed, precision and extreme simplicity of operation, the XP200T labeling machine is engineered to perform with maximum productivity and uptime in mind.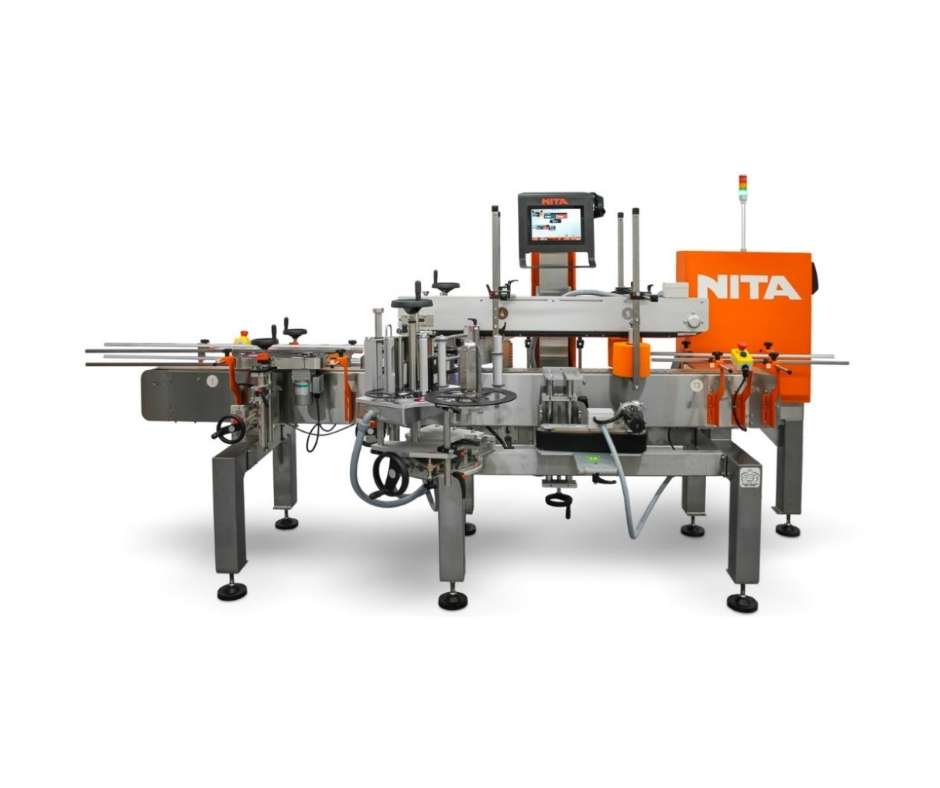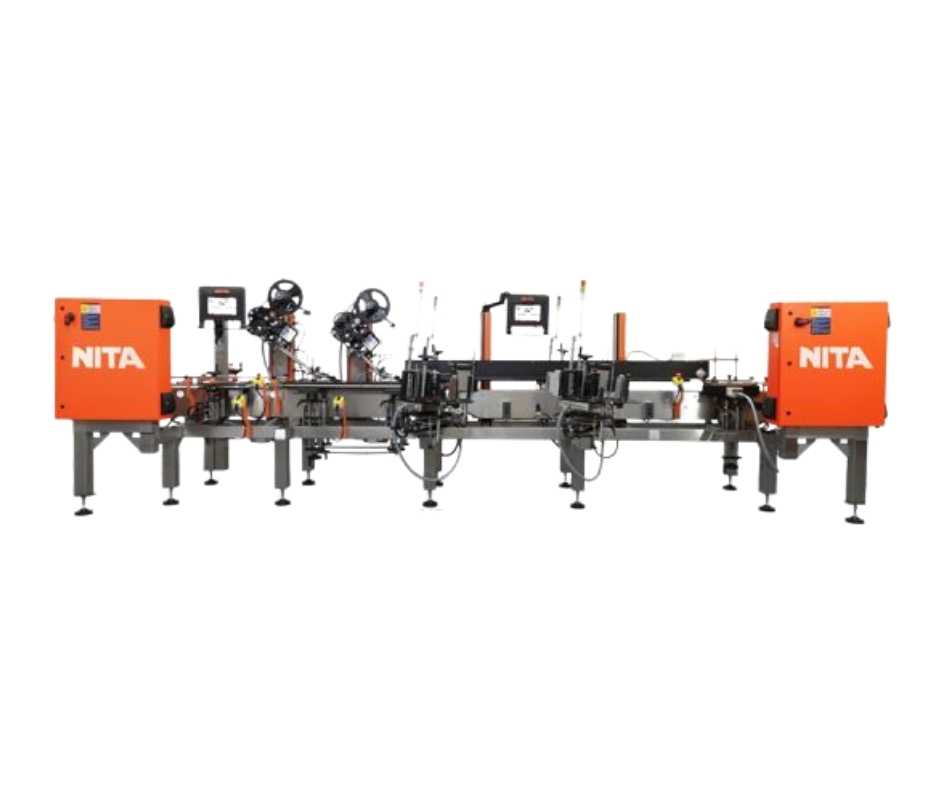 Sheapak's Non-Stop Labeling System
Redundant Retractable Labeling Heads.
Automatic Depleted Label Roll Switchovers.
Call us NOW to learn more about this and all of the other game-changing features you will only find on a Nita Sentient Labeling System.

1-855-668-NITA (6482) or email if you prefer at sales@nita.ca.
Sheapak's XP200T-P Pail Labeling Machine
Powerful And Versatile Labeler For Front Or Multi-Panel Labeling Of Buckets, Pails, Jugs And Tubs
Machine Type: Pail labeling machine, pail labeler, bucket labeler
Labeling Applications: Front labeling, multi-panel labeling, full wrap labeling
Container Types: Labels round or square plastic buckets, jugs, pails, tubs, metal and most other materials
Built for speed, precision and extreme simplicity of operation, the XP Pail Series of labeling machine is engineered to perform with maximum productivity and uptime in mind.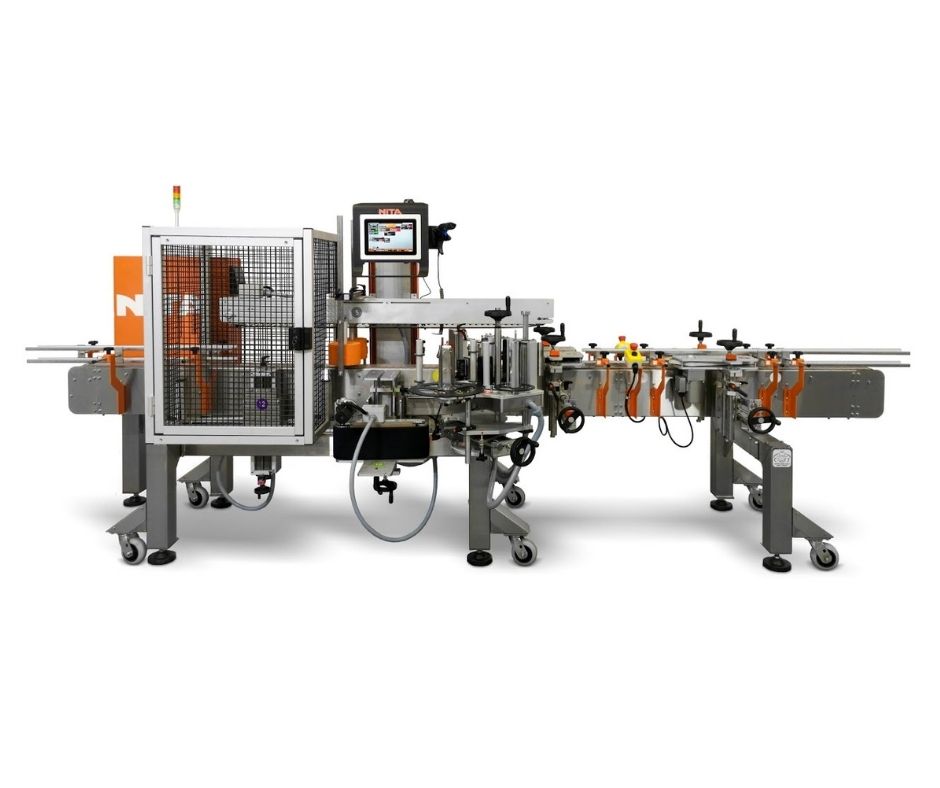 Print and Apply Labeler All In One System
With today's technology, printing and labeling can be completed by the same machine. Investing in this type of equipment puts the brand in total control. If desired, each label can be unique and still be accurately applied to any size or shape product. This can be especially helpful for companies that offer a range of products or those that are quickly introducing new products. They don't have to experience the lag time that comes with sending an order to a printer and waiting for it to be delivered. Printing and application can take place instantly and on-site.
The Benefit of Using Print and Apply Labeling Systems for Shipping Labels
While print and apply systems are helpful across all industries, they are great for businesses that need to ship pallets of their products. Even if you are shipping within the United States, there are specific shipping laws and regulations that must be followed. A lot of these require customized labels with information that only pertains to that pallet. Most of these labels also need to include a unique barcode for identification purposes.
Shipping and barcode labels need to be created on the spot. That is where print and apply labeling systems come into play. Businesses can use a computer screen to enter the necessary information and the label can be printed and secured to the pallet. This allows businesses to remain flexible and respond in real-time to needs. 
No matter what label size you need, there is a machine on the market that can print and apply high-quality labels that provide a strong and lasting bone.
Pressure Sensitive Print & Apply Labeling Systems
Most print and apply labeling systems rely on pressure-sensitive technology. The automatic labeler doesn't need heat or water to activate the adhesive. Once the label has been designed and printed a tamp blower will precisely place it on the package and apply the perfect amount of pressure. That is all it takes to secure a label that will stay on throughout the production and shipping process. You can feel confident that your labels and packages will always look professional and represent your brand in a positive light. 
Buying The Right Print and Apply Label Applicator Systems For Your Product
One of the great characteristics of print and apply label applicator systems is that they come in a wide variety of sizes and capabilities. If you are dealing with smaller packages or you have a limited workspace, you can find a compact solution that will still effectively print and apply your labels at a rate that is exponentially faster than doing it by hand. 
There is also no need to worry if you deal with oddly shaped packaging. Today's products don't just come in neat rectangular boxes. Packaging can range from bags and tubes to bottles and cylinders. Fortunately, that is no problem for print and apply label applicator systems. These machines can precisely place a product and make sure that the label is accurately applied to the surface of the package.
Maximize ROI With An Automatic Label Printer and Applicator
Investing in an automatic label printer and applicator can sound like an expensive undertaking, but these machines are also available at a variety of affordable price points. You also have to consider that the equipment will provide an impressive ROI. If you don't have to rely on employees to handle your labeling tasks, that frees up valuable man-hours that can be spent on more innovative projects that will move the company forward. 
Smaller businesses on a budget can opt for a semi-automatic machine. This will require some input from humans while also handling the heavy lifting and monitoring for accuracy. Introducing any amount of automation into the production process can have a significant impact. 

Fully automatic label printers and applicators can truly transform your business. When you are ready to expand your capabilities or add a new product to your company's offerings, you can simply add the necessary module to your existing equipment. Your applicator can grow and scale with your business, which helps to make it an excellent investment.
A Guide to Automotive Labeling Machines
SheaPak is proud to provide customers with the best labeling solutions and services to meet their needs. This includes supporting the automotive industry with high-performance labeling machines that can be used in a variety of applications. No matter what your requirements are, we can make sure you are equipped with the right labeling machinery to support your business. 
Automotive and Industrial Pressure Sensitive Labels
Pressure-sensitive labels are so versatile and effective that they represent around 80% of the total label market. One of the main advantages is that they can easily be applied to practically any type of packaging. There is no need to deal with heat or solvents to achieve reliable and long-lasting adhesion. With the right layers of materials and pressure, flexible and durable labels can be applied to metal, plastic, paper, and any other materials
An automotive or industrial pressure sensitive material consists of four layers: release liner, adhesive, facestock, and top coat. Each of the layers can be totally customized to provide the right color, gloss, texture, strength, and adhesion. You can even choose whether your label is designed to be permanent or temporary.  
Depending on the materials and application environments, silicon, rubber, or acrylic adhesives may be used to create a strong bond. We will also look at whether your automotive product will be exposed to extreme temperatures, moisture, or other conditions that would affect adhesion. With that information, you can find the right products and equipment that will provide you with a professional-looking final product.
Automotive Sector Labeling Machine
The automotive sector is competitive and it can be difficult to stand out. A well-designed and eye-catching label can help make sure that you are making a great first impression. Providing a compelling visual story that highlights your brand and provides essential product information will allow you to convert sales. Customers will recognize your appealing label and be drawn to your product.
Labeling Machine for Automotive Sector
Whether you are a small business or an enterprise-level company that ships all over the world, a labeling machine is an essential part of daily operations. Time is a precious commodity for any business and an automotive labeling machine can provide an automated or semi-automated solution that reduces costs and labor. You can achieve a polished and professional look for your products in less time.  
Another benefit of labeling machines for the automotive sector is that they are capable of handling any product container. Automotive products often include fluids that are stored in rounded containers that make storage and pouring easier. This type of convex surface can present some challenges, but not for labeling machines. From tubes and cylinders to rectangles, automatic labeling machines are capable of handling any size or shape product. You can feel confident that there is a solution to help with your labeling needs.  
Choosing an Automotive Label Maker
The automotive industry also requires a variety of safety and warning labels. These need to meet certain compliance standards that regulate everything from the size and shape of the label to the text height. Safety labels convey vital information which also requires clear images along with concise language. Your label maker should be able to consistently create and print labels that are specific to product application, surface type and label environment. 
There are also other logistical considerations to take into account. When you outsource your label making, you introduce the potential for supply chain issues to affect your business. You also lose out on the opportunity for on-demand label making and printing. Think about the volume of printing you require and how those needs may change over time. This will help you find a cost-effective and adaptable automotive label maker.   
Automotive label printers allow you to easily input essential information and produce a customized label. This is perfect for automotive environments where different barcodes and other identifying information needs to be supplied for each component or vehicle. Label printers tend to be more compact and mobile for a dynamic and demanding work environment. 
As part of our commitment to excellence, we partner exclusively with Nita brand labeling machines. Their labeling machines represent the best in cutting-edge and adaptable technology. This allows our customers to have access to the ultimate in products, sales support, and technical services. You can rely on SheaPak to help you find the best solution for your needs and provide you with the ongoing maintenance and technical support you need to protect your investment and avoid unnecessary downtime.